Blackburn Outpost Racks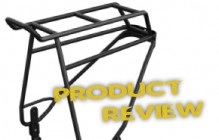 Bike lover Ryan Schuetze is a rugged fisher who, when he's not busy hauling in a big catch, loves to put bike gear through the wringer on his adventurous journeys. He's living the Alaska life, but has the urban sensibilities of a long-time resident of Seattle. So we love to read the bike gear reviews on his blog Go Means Go as they blend that perfect mix of style-attention-to-aesthetic-details-daily-commute-needs with rugged-not-messing-around-durable-life.
With all this recent talk of bike touring bike camping bike packing Oregon Outback, when we saw Ryan had a post up about the new Blackburn Outpost Racks, we perked up. The racks use aircraft-grade 6061 aluminum tubing and are adjustable to a variety of set up sizes. The front racks can hold an impressive 45 pounds, and the rear racks 55 pounds.