Cool Route: Rood Bridge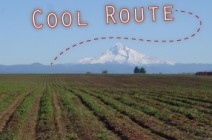 This is a nice shorty spin for people new to road riding. You could easily repeat the loop, combine it with some time at Rood Bridge Park's many trails and features or simply add some additional roads to your ride.
We like this route because it's a chance to see the fertile Tualatin Valley where Oregon grows much of it's awesome food.