We love to promote events in Oregon and to help you find your next bike adventure! Please note – ORbike does not organize rides. Always verify event details with the event organizer before heading out for the day.
ORGANIZERS: ORbike goes out to 50,000 regional cyclists. How are you promoting your event this season? Contact us!
Cycle Oregon's Gravel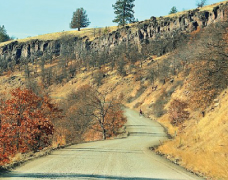 The Right Kind of Grind
Hold onto your handlebars because Cycle Oregon's ride GRAVEL is back! The ride kicked off last year in the Tillamook State Forest to rave reviews.
To mix things up, this year the ride is heading to the stunning expanses of high, lonesome prairie, and forested foothills surrounding Dufur, Oregon for an unforgettable trip down some of Oregon's most scenic backroads. For one golden weekend in mid-May, you have the opportunity to cruise a combination of gravel and paved roads, with wide-open views of Mt. Hood and Adams appearing around nearly every corner.
Cycle Oregon Style: Fully Supported Awesomeness
When you sign up for an event with Cycle Oregon, they take care of all the pesky details so you can focus on one thing: Mega fun on your bike. As it should be.
This event includes camping, music, food and plenty of fun. Cycle Oregon always caters tasty meals – even magically out in the middle of blissful "nowhere". They know just how to treat riders right and ensure you have an excellent event experience.
About the Routes
New to gravel? No problem! Each day features multiple options, each one a mix of gravel and pavement.
Day 1
Long: 65.3 miles — 5064 ft of climbing 47% gravel/53% pavement
Short: 31.8 miles — 2140 ft of climbing 67% gravel/33% pavement
Day 2
Long: 63 miles — 5216 ft of climbing 53% gravel/47% pavement
Short: 33.2 miles — 3118 ft of climbing 61% gravel/39% pavement
Photo Gallery
Day 1
Long: 65.3 miles — 5064 ft of climbing 47% gravel/53% pavement
Short: 31.8 miles — 2140 ft of climbing 67% gravel/33% pavement
Day 2
Long: 63 miles — 5216 ft of climbing 53% gravel/47% pavement
Short: 33.2 miles — 3118 ft of climbing 61% gravel/39% pavement
Photo Gallery