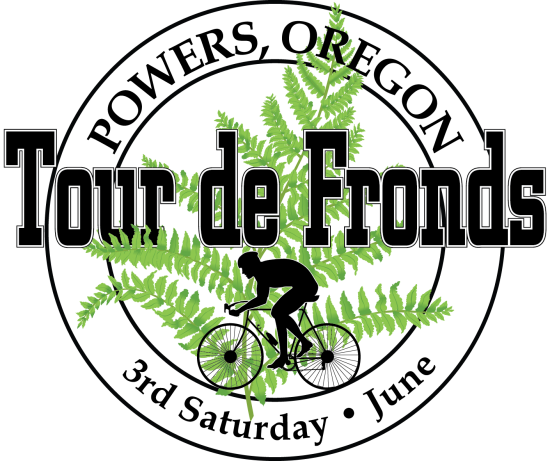 Tour de Fronds was voted #1 Supported Bike Ride in Oregon! This event,  stationed out of the little community of Powers, OR in the Southwestern part of the state, offers a gorgeous ride that winds through the beautiful Siskiyou National Forest.
Tour de Fronds offers 7 ride options (5 asphalt, 2 asphalt/gravel) which vary in length from 30 to 117 miles on low traffic roads.  The two asphalt/gravel rides; a 72 mile adventure to the Rogue River/Old Agness Store and return, and a 55 mile challenging adventure past the largest Port Orford Cedar in the world.  Take your pick, there is something for everyone, from the novice to the cycling enthusiast.
The registration fee varies from $40 to $70 depending on ride choice and time of registration.  This fee covers the Continental Breakfast at the Powers County Park Registration site, the  Rest Stops where an opportunity awaits to hydrate, listen to music, and consume more "fun" calories than are necessary to complete the ride!  The fee also included a delicious post-ride dinner with some serious homemade dessert choices.
The beautiful Powers County Park offers several camping options and a wonderful opportunity to mingle with fellow cyclists.  To assist with a Friday arrival, one of our service organizations will serve a fundraising Spaghetti Dinner.  If you would like to make this adventure a full Father's Day Weekend, the Powers Lions Club will have a Pancake Feed for a small donation on Sunday morning.
For more information visit our website.