Framebuilders Bid Farewell to Velo Cult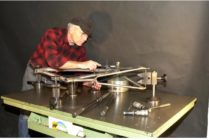 Handmade bike builders from Oregon, Washington and Australia (!) will showcase their beautiful bicycles for road, mountain and gravel at a special final show at Velo Cult Bike Shop + Tavern. The much-revered bike shop and community gathering space recently announced plans to shutter the doors of their massive Hollywood space, and instead focus on their online business.
Simultaneously, the Oregon Bicycle Constructors Association decided to cancel their Handmade Bicycle Show for 2018. This event is a fitting set off for Velo Cult and a way for people to check out what the many regional bike builders are working on these days.
Hopworks will provide free beer and there is no cost for entry.
Cheers to one last party at Velo Cult, an amazingly wonderful venue we are sad to see close. Portland won't be the same without it.
PHOTO: Bespoked