Fundraising by Bike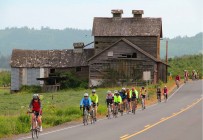 Use the power of your bicycle to support your favorite causes in 2013!
The calendar is filling up as bike events release their ride dates for 2013. How do you choose the event you want to participate in? One consideration is the cause behind the event. Check out the website to see if the event has a beneficiary.
Sometimes events with beneficiaries require a fundraising minimum, but often they do not. Merely participating in the event may be a way to support a non-profit organization. Often you can also make an additional tax-deductible donation at the time of registration.
Pictured here: Riders traversing the Oregon countryside converge in Pacific City on the American Lung Association in Oregon's Reach the Beach. This year's ride is May 18. [ more info ]