Tour de France: Every Second Counts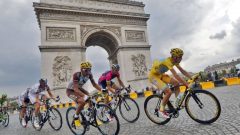 The 104th edition of the Tour de France is currently underway, having started in Düsseldorf; with Marcel Kittel winning stage 11, and Chris Froome retaining an overall lead. With 10 stages left, it's anyone's game.
Timekeeping is an important aspect of the Tour de France. With Tissot, Official Timekeepers of the Tour de France and all cycling time trials by the Amaury Sport Organisation, keeping track of the seconds and minutes between cyclists. Official timekeeping means the true Tour de France champion will prevail. The Watch Gallery has created a useful infographic detailing the Tour de France in numbers, and how important it is to have innovative timekeeping systems at all time trials.
When it comes to the final stages, every second counts. The last leg (stage 21), will, for the first time, have Marseille welcome an individual time trial set on mostly flat, urban roads, minus the climb up towards the Notre-Dame-de-la-Grade cathedral before finishing at the Champ-Elysees. This time-trial will be the final opportunity to witness a shift in the leader board; it's also prime opportunity for the cycling sprinters to shine.
When it comes to the importance of timekeeping, the most notable case is of the 1989 Tour de France win, where Greg LeMond and Laurent Fignon were separated by a mere eight seconds. This is the narrowest winning margin in history, and proves that the best timekeeping measures must be in place. With the Tour de France being a 21-stage bicycle race, broadcast to 190 countries worldwide, keeping tabs on each competitors time makes for a smooth championship.