The Community Cycling Center is a non-profit organization in NE Portland that was founded in 1994 to help neighborhood kids from low-income families repair their bikes. The founder set up a repair stand on the sidewalk, and the rest is history. From those humble beginnings to where they are now has been a long, thoughtful journey exploring what cycling means to all Portlanders.
This past December, the Community Cycling Center celebrated another year of making bicycle dreams come true for underserved youth through their Holiday Bike Drive give-away program. But simply giving away bikes is not the core of what the organization does these days.
It's high time we re-introduce you to the Community Cycling Center, an impressive non-profit organization doing increasingly vital work in our community. We sat down with Communications and Marketing Manager Melinda Musser to learn more about the revitalized organization.
A Healthy, Sustainable Portland for All Residents
The Community Cycling Center turned a crucial corner when then recognized that "simply giving away bikes is not enough to create lasting change," as Melinda explains.
"We are moving in a direction now where we are working collaboratively with community partners to overcome barriers to bicycling while building community capacity and developing neighborhood-based solutions. We are looking at ways to create pathways to employment and engagement within the growing bicycle movement, including jobs as educators, advocates and mechanics. We do this so that the promise of a healthy, sustainable Portland is possible for all residents."
Everybody Rides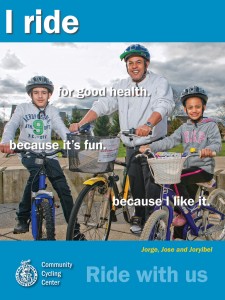 The Community Cycling Center believes that "all Portlanders, regardless of their income, education or ethnic background, should have the opportunity to choose healthy, active transportation." They want to make it possible for people to use bikes to get to work, get to school, spend time with friends and family or simply explore the city.
This dedication to inclusion is at the core of the work they do.
Understanding Barriers to Bicycling
In 2008, the Community Cycling Center took a hard look at the work they were doing to determine what impact they were having. Their conclusion: "We could do better."
That led to the Understanding Barriers to Bicycling project that breaks down what people what were people interested in and concerned about as it related to bicycling. "We learned that the barriers to bicycling are complex; simply giving people bicycles is not enough to support ongoing bicycle usage," the organization explains.
The Community Cycling Center isn't the only organization taking this thoughtful approach; organizations across the country are doing similar research and they are all learning from each other.
New Projects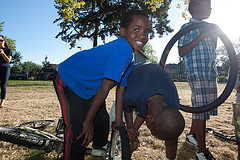 As an extension of their research, the Community Cycling Center launched a new Bicycle Repair Hub.
In just 10 quick days, they transformed a vacant lot into a bike repair space at New Columbia, an 82-acre mixed-income community in North Portland. A committee made up of New Columbia residents, many of whom are low-income, were the driving force behind the project.
This project exemplifies the Community Cycling Center's approach to partnering directly with the community they serve to ensure success and relevance.
And a Bike Shop, Too
Some non-profits are tucked away in downtown high rise buildings, doing their good work behind the scenes. Not so with the Community Cycling Center. Since their inception, a community bike shop has been the face of the organization.
They operate a full service repair and sales facility at 1700 NE Alberta Street where they strive to create a welcoming environment for all people who ride bikes.
How You Can Help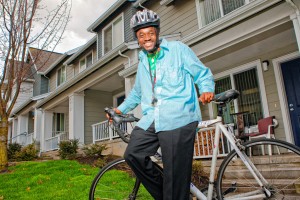 The Community Cycling Center relies on the support of the cycling community to continue their good work. Here's how you can help:
Make CCC your bike shop. Proceeds from the shop go directly into their programs.
Volunteer. From wrenching on bikes to photographing events, there are positions for a variety of skill levels and interests.
Make a donation. Your contribution is tax-deductible.
Ride the 12th Annual Worst Day of the Year Ride on Feb 10.
For more information on the Community Cycling Center, and how you can support their impressive work, see CommunityCyclingCenter.org. You can find them on Twitter at @CommCyclingCtr. View more photos of the organization in action on the Flickr site.
---
The Worst Day of the Year Ride is a wacky wintertime ride with 16 mile (flat) and 40 mile (hilly) route options, costumes, belly-warming treats and a finish line party at the Lucky Labrador Brew Pub. MORE INFO >>
Photos by: Dan Sloan (iRide), Ben Latterell (youth repair), Lucas Balzer (adult rider)