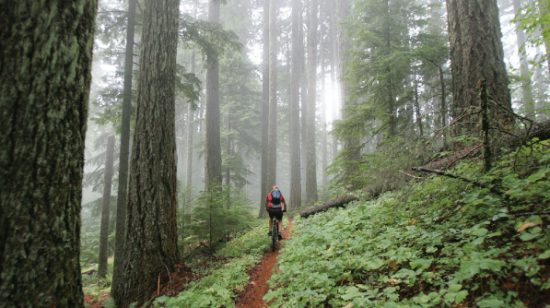 A Mt. Biker's Dream Weekend Getaway
Do you find yourself dreaming of a weekend jam packed with endless miles of singletrack?
Then Mt. Bike Oregon is the perfect event for you!
Ride the Best Trails
Tucked away in the Willamette National Forest live some of the world's best mt. bike trails. But don't just take our word for it. IMBA awarded Oakridge, Oregon Gold Level status, one of only six Ride Centers in the entire world to receive this prestigious designation.
The Alpine trail, in particular, is widely regarded as the Crown Jewel, and that's only the tip of the iceberg at Mt. Bike Oregon.
Shuttled Rides All Day, Every Day
The event features shuttled, guided rides every day. The guides aren't there to hold your hand, they're simply the extra special sauce to ensure everyone makes it down the trail without ever having to consult a map, and to ensure no one gets left behind (because what fun is that?).
Shuttles start going out at 7am and they don't stop until 11:30 in the morning when all 300+ riders are out on the trail. With more than 7 ride options each day, there's no shortage of fun to be had at Mt. Bike Oregon.
All Inclusive
Sign up, then don't worry about a thing. Breakfast, lunch and snacks are provided. Every night there's a FREE drinking garden under the starry night sky, featuring some of the region's best beer wine and cider. The wine is provided by J. Wright, Vintner – the wine for spirited adventurers. Winemaker Joe Wright is an avid mt. biker who draws inspiration from the trail for every barrel of wine he creates.
Camping, top of the line demo bikes, shuttles and clinics are also included. For dinner, the event organizes a Food Truck Festival on site.
Rally Your Riding Buddies!
Riders flock to Oakridge from all over the world for this incredible event. Rally your riding buddies and sign up today!
EVENT BASICS
TWO WEEKENDS: July 20-22 and August 17-19
Choose one or sign up for both!
RIDE LEVEL: Intermediate to Advanced
LOCATION: Oakridge, Oregon
MORE INFO >