For the past seven or so years, I've been making the annual pilgrimage to Seattle for the gigantic Seattle Bike Expo (10,000 attendees, 250 exhibitors). The quest: innovation. I have an unquenchable thirst to find the latest and greatest bike gear that meets the needs of today's riders, and my personal riding style. Technology is advancing faster than ever before, and there's no reason the bike industry should keep pace.
But it's not. Not really. Not if you consider all the everyday cyclists who want to ride and be comfortable at the same time. Not everyone is a racer, and not everyone wants to wear clothing so functional it forgets about fashion. So what are the rest of us to do? In many cases, we settle.
We shouldn't have to settle.
I coupled my Seattle exploration with the PDX Bicycle Show/Pedal Nation. While it's fun to make a visit to Seattle and be at such a large show, I definitely left Pedal Nation more inspired.
Below are some highlights from both of the shows. Click on any of the images or CLICK HERE for a full photo gallery.
AWESOME INNOVATION
(Pedal Nation)
What are our helmet options these days? Well, you have standard vented helmets, sleeker race and high tech helmets and multi-sport fun, funky, clunky helmets, like Nutcase. But what about just a good looking helmet? Something low profile and lightweight?
Up until SAHN (Vancouver, B.C.) stepped into the picture, there wasn't anything. The lovely design was born from the minds of a helmet industry guru and a cycling obsessed industrial designer. The results is a lightweight, muted palette helmet series like no other on the market.
While the $129 price may seem high for a city helmet, it's actually accurately priced when compared to helmets of similar quality. The Swiss-made rear dial is a smooth and clean mechanism for dialing in your perfect fit. Minimal touch points and channels inside the helmet allow for maximum airflow. Over time, the company hopes to improve aeration even more.
A NICE ALTERNATIVE
(Pedal Nation)

Sombrio (Vancouver, B.C.) came down to Pedal Nation with a boom. They brought a gigantic rig that, while it seemed ridiculously huge, certainly made an impact. They had a pump track in action and a crew of super nice staff.
Early on in his riding career, owner Dave Watson identified a need for technical and durable mountain bike clothing with style and he created a line that has evolved over the last 14 years fit for both on and off the trail. He's also a little famous for having jumped over the line of Tour de France bikers in 2003.
I'm intrigued by the Artemide women's rain jacket. It's billed as a freeride jacket with features to match that particular riding style (lift pass pocket, peaked hood, dropped rear) but seems well suited for urban riding, too. The four-way stretch waterproof and breathable material is designed to keep you dry and warm in the worst conditions and won't break down the way Gortex can. The jacket is extremely malleable and relaxed; even the pit zips are soft. And as a B.C. based company, they know all about the challenges of riding in the rain. Their zippers are water repellent and the pit zips have an additional rain flap over them. Overall, it's a well thought out jacket that's stylish, comfortable and ready for intense rain.
GORGEOUS FEATURES
(Pedal Nation)
Sykes Fenders (Portland) have been around for about 10 years now, and they're a lovely functional accent for the discerning cyclist. Owner Paul is dedicated to ensuring fenders fit right and will customize them to make it happen. He uses a lot of local woods and woods with interesting textures like Oregon Maple. He's a woodworker by trade who runs his fender business on the side to challenge himself.
But what perhaps is even more intriguing is his line of fenders made from recycled skateboards through a collaboration with MapleXO. These colorful, stripy fenders are a durable and a fun way to show your personal style while adding water and mud protection to your bike.
NEW TRENDS
(Both shows)
Bike touring is on the rise and given the rigorous nature of most journeys, solid gear is a must. Swift Industries (Seattle) has developed a bag series specifically intended for bike touring. Their line is durable and fully waterproof, with plenty of useful options like backpack conversions, customizable colors, multiple pockets and various sizes. Buyers can choose from a nice waxed canvas or cordura.
Their design features a flap that keeps closed (rolled) bag top in place which creates a space to hold an extra personal item (sleeping pad, sleeping bag, jacket). The flap also serves as rain protection for the add-on item. This is merely a design choice over the standard single strap that achieves much of the same result with less fabric. The bags favor functionality and durability over being light weight.
ALMOST ROCKED IT (BUT DIDN'T)
(Seattle Bike Expo)
The new Novara (REI's private label) jacket for women is ultra stylish, featuring a cinched waist design that's very flattering for a wide variety of body types. The high collar is great for windy days and the reflective accents are extremely tastefully placed.
This jacket is being marketed to cyclists, but it isn't waterproof. The material is coated with a water repellant that will eventually break down and wear off. Even when it's in full force, the repellant will only keep light mist at bay.
Manufacturers: There's no reason to make a stylish jacket for bikers if you're not going to make it waterproof. We can just wear clothes, they don't have to be "bike clothes".
BUY LOCAL
(Pedal Nation)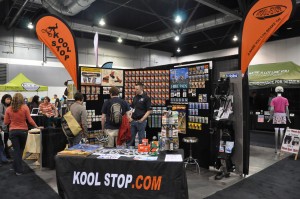 Jenn Dederich from Portland Pedal Power, who has been outfitting her delivery bikes with Kool Stop brake pads since day one, wonders why anyone would buy a different brake pad. "Made in Lake Oswego, Oregon. You shouldn't need to say anything else. Everyone should be using them."
Kool Stop makes a wide variety of pad types to fit different riding and racing styles. By popular demand, they've recently re-introduced a line of retro shapes. They employ 17 people in their Lake Oswego factory that's still owned and operated by founder Richard Everett.
PACKS A PUNCH
(Both shows)
eoGEAR (Utah) bags come in a variety of compact sizes that suit endurance athletes. The array of added pouches, straps and cinches makes it easy to stay organized and efficient while meeting the needs of someone under the most intense conditions. An optional dry bag insert will keep contents protected from rain.
The bags hook to a mount, which is attached to the rails of a saddle and can fit various bag styles within their line.
NATURALLY
(Pedal Nation)
Ruby's Lube (Idaho) started as a balm for dry skin, but athletes quickly discovered this natural product also does a great job prevent chafing. Comprised mostly of olive oil, lemongrass, calendula, beeswax and benzoin, Ruby's Lube relies on ancient skin care remedies to create a versatile balm that they say "for any dry skin condition, rash or minor skin irritation, to soften dry feet and elbows, soothe a baby's bottom, massage sore muscles or indulge in a romantic evening."
MARKEDLY IMPROVED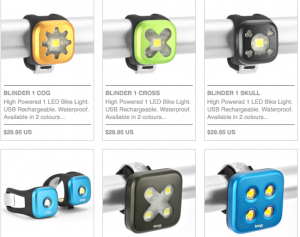 (Both shows)
USB-charged products are a convenient way to help people on the go stay powered while suiting their device-laden lifestyles. The early models of Knog's USB-powered lights were attractive for their power source, but unfortunately weren't waterproof. They didn't purport to be, but most people are going to assume a light can handle a standard rainy season without dying after only eight months, as mine did.
Knog recognized this flaw and quickly set about designing an entirely new line of creative lights that are so waterproof they can be dropped in a pint of water without fizzling out. The lights are visible from more than 2600 feet away (80 Lumens for front lights) and burn for three hours on constant or 50 hours on strobe mode. They have a battery design that allows for full light operation for 90% of the battery's life. When the battery is running low, an amber glow is produced when powering off the light.
This new light series comes in crazy cool light patterns that fit right in with Knog's playful style.
ARTISTIC FLAIR
(Pedal Nation)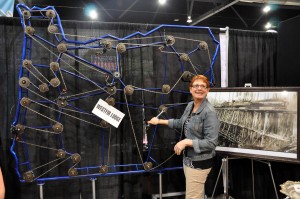 Westfir Lodge has been newly renovated in the tiny town of Westfir (population 225) located just outside of Oakridge, Mt. Bike capital of Oregon and home to the internationally famous Mt. Bike Oregon. Westfir was once a bustling community of 4,000 that had it's own currency and relied on the railroad for much of its daily activity during the timber boom of the 1920's. The lodge was originally the railroad office.
Owner Eric Staley hopes to attract cyclists journeying along the nearby Aufderheide, which originates (or ends) in Westfir. This road is known as a scenic drive but cars are a rare sight and the route is lovely for biking.
To make the cyclist connection, Eric hung his favorite bike-themed print in the booth, an image of a sculpture made of bike parts that forms the shape of Oregon. Gears mark bike highlights along the way and chains connect the points. The print hangs in the lodge. Sculpture designer Mark Scott happen to stop by Westfir's booth at Pedal Nation. When he saw the print hanging, he rushed to his studio to grab the real kinetic sculpture and install it for the weekend.
PURE FASHION
(Seattle Bike Expo)
Ann DeOtte (Seattle) is a fashion designer on a mission to make cycling clothing that's as lovely as it is functional. After reading about the successful Kickstarter campaign for her clothing line Iva Jean (she raised 11,500 more than her $15,000 goal), it was a pleasure to meet her in person. Ann is open to ideas, willing to listen and dedicated to her craft. Her currently line only features water resistant fabrics but she plans to have a fully waterproof cape in the near future.
Hub and Bespoke (Seattle) opened in May of 2010 with a collection of apparel and accessories that meet functional needs with a fashionable sensibility. They've been non-stop ever since. Their 2013 ladies' style rain coat (pictured here) received rave reviews at the expo. It's fully waterproof and very stylish as an awesome piece of well made clothing for riders who don't mind a longer jacket style.
SITTIN PRETTY
(Both shows)


When you pedal, the right and left sides of your pelvis move independently, which is why Selle Anatomica (San Diego) created a saddle to respond to the motion and create a comfortable ride. Their stylish leather saddles are a gorgeous option. They offer a service to retrofit a Brooks saddle with their patented cutout.
YOUR TURN
Did you attend either show? What caught your eye? Comment below and share your thoughts.