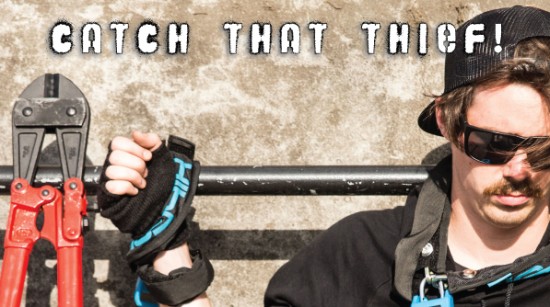 Hit the Streets on the Catch That Thief! Challenge
In the US alone, a bike is stolen every 30 seconds. That's not a typo, that's a problem. Our friends at Ride with GPS and Project 529 (both Portland-based companies) are challenging riders to transform their anger into miles with the Catch That Thief challenge. By registering your bike in the Project 529 garage and clocking some summertime miles in the Challenge, you could win an array of cool prizes.
Make a difference
Do you hate bike thieves (and love your bike) as much as we do? Join Ride with GPS and Project 529 as they take to the streets. Sign up for one of three daily ride tiers (5, 10 or 20 miles a day). You can meet those goals daily, or make up for slimmer days when you coquer long rides.
Win Prizes
Meet your mileage goals and you'll be entered into a prize drawing. Everyone who completes their goals will get an equal chance at prizes. Additionally, if you register your bike with Project 529 using the same email as your Ride with GPS account, they will bump up your odds in the drawing by a super-secret formula.
Prize Packages
Grand Prize: 1 Zipp 30 wheelset
3 Runners Up: Cycling prize packages courtesy of Project 529 including:
SRAM computer mount
SRAM Powerlock Link
roll of SRAM SuperSport Bar Tape w/ Gel (red or yellow)
Bike Thieves Suck t-shirt
pack of Bike Thieves Suck stickers
529 Shield kit for 4 bikes
Notable Mentions: Ride with GPS shirts, cycling caps and water bottles.
Event Basics
August 22nd until September 14th
No cost to participate
Register online >>