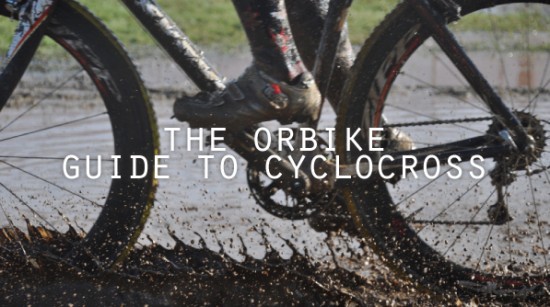 Cowbells Ready? Cyclocross Season is Here!
From mid-August through December, cyclocross fever is an Oregon epidemic. For those of you who haven't experienced the phenomenon, cyclocross races (aka cross or CX when typing) have popped up all over the state. From Portland to Bend, Klamath Falls and beyond, in fields, on golf courses and at county fairgrounds and parks, racers brave the cold, rain and mud for sheer pleasure, pain and sometimes glory.
WACKY, FRANTIC AND FANTASTIC
The racing takes place on a short loop of one to two miles over a mixture of surfaces: grass, gravel, mud, snow, sand, pavement and wooded trails. At multiple points along the course racers are forced to hop off their bikes and carry them, running over barriers, logs, piles of debris or up stairs or hills too steep to ride then re-mount, completing as many laps around as possible in the forty-five minute to hour-long time frame.
Remember all the way back when you were a kid racing your friends around the block? Throw in an obstacle course, turn the kids into grown-ups and you have cyclocross. As you might imagine, feats of heroism and slapstick antics ensue. It's challenging, wacky, frantic, and fantastic… and oh-so-easy to get hooked.
There are racing opportunities for all ages, from kids on pedal-less scoot bikes to octogenarians and everyone in between. Categories range from beginner-friendly (no racing experience required) to the pros. Cyclocross welcomes everyone, which is why it's Oregon's fastest growing cycling sport.
SPECTATING AS SPORT
"Kiddie Cross" for the tots makes cyclocross a family affair, and plenty of fun for everyone to watch. In fact, the fine art of spectating (with spirit) is an integral feature of cyclocross. Especially in Oregon.
The festival atmosphere – complete with fried food, ringing cow bells, hay rides and sometimes even flying pumpkins – takes place in a pastoral setting with short race loops that are maximized for cheering and heckling opportunities. Cross is as much fun (or possibly more) for the spectators as it is for the racers. Expect vendors of Belgian waffles, pommes frites, free oatmeal and coffee, mobile bike shops, bike raffles, fundraisers for local schools and, if you're lucky, free cowbells to help your cheer the loudest.
It's not uncommon to spot racers sporting goofy costumes, especially around Halloween. Sometimes, they're even rewarded with bonus points for their outfits.
WHAT TO BRING
Chances are you're going to want to stick around after your race, so bring dry clothes to change into. A towel is handy for cleaning off mud and to offer you some modesty when changing. Baby wipes are extremely handy for a quick personal clean up and you'll definitely want to pack a plastic bag for carrying home muddy clothes and shoes.
Some people also like to bring a canopy, rollers, a cooler and other personal items for setting up a mini camp for the day. This works particularly well if you're going to the race with other people who are racing at different times. It gives you a centralized area to hang out.
If you're only going to spectate, here's a good checklist of what to bring:
Mud boots
Very warm clothes – remember that you'll be standing around a lot
Umbrella or other rain protection
Thermos of hot drink
Snacks – plan to stay for the day
A cowbell – the official noisemaker of cyclocross
Well behaved dogs (who don't mind crowds and noise) on leashes are completely welcome at nearly all races.
NUTRITION
There usually is not enough time to eat and drink before your race, so your best strategy is to hydrate well the day before and eat a nourishing pre-ride meal two hours before your race. Plan this out in advance and don't rush it or you could ruin your race day.
Bring a nutritious snack (yogurt, peanut butter apples, quinoa salad) for immediately after the race. That's the best time to nourish your muscles and aid in recovery. But that can just be a snack, because, after all, the cyclocross food carts (not available for all race series) offer plenty of indulgent treats that you can certainly earned.
PRE-RACE PLANNING
If you're new to this all, plan to arrive an hour early which will give you plenty of time to park, get checked in and preview the course. Find the registration tent and sign in or register and pay for your racing license and race fee. All racers need to pay for a license, which you can purchase for a day or for the entire season. You can also purchase licenses and register for most races in advance online.
You will be issued a race number and safety pins to secure it to your jersey or shirt, which is how the officials keep track of you during the race. If you're not sure how to properly pin on your number, ask an official. Improperly pinned numbers won't be counted, and they drive the race officials completely nuts.
Previewing the course allows you to get a sense of what you're in for during the race. The race series website should have a schedule of designated times for pre-riding the course. Other than during your actual race, this is your only opportunity to be on the course (you can't slip on there in between race categories). If pre-riding isn't an option, walk the edge of the course.
It's good to warm up a bit before the start of the race, either by working on your skills of hopping on and off the bike or riding a bit around the parking lot. Give yourself enough time to get to the starting line five to ten minutes before the beginning of you race for announcements and getting lined up.
IT'S ON!
Once the race has started, officials stationed near the finish line record laps. The race is forty-five minutes, but the officials will estimate how many laps everyone can do in that time based on how fastest riders in your group complete the first lap. A lap counter lets you know approximately how much suffering you have to endure before you can stop pedaling. It's both longer than you'd think and over before you know it.
An official ringing a loud bell signals when there is only time for one more lap as riders pass through the finish line the second to the last time – this is called the Bell Lap. The bell is your signal to drop the hammer and bring it home to sweet victory – or at least relief for struggling lungs.
For spectators this is the time to shine. In the last lap racers are often in what is lovingly referred to as "the pain cave" and can use all the extra encouragement the sidelines can muster. If you're at the race supporting a friend or loved one, it's nice to have water and a jacket waiting for them at the finish line and greet them with congrats of a race well ridden.
POST-RACE
As soon as possible after racing, eat your muscle recovery snack. Some people swear by chocolate milk for recovery, others a frosty beer.
Stick around to cheer on the other racers, reward yourself with a cone of fries or a warm waffle smothered in Nutella and pat yourself on the back for a job well done. All this fun is hard work. When it comes to cyclocross, it doesn't matter if you're a back-of-the-pack racer or cheering on the sidelines – just about everyone comes out a winner and is an important component of this wacky sport.
JUST GO
Whether this is your big year to give racing a try or you just want to spectate, cyclocross is an excellent way to get off the couch and out into a field of bike-obsessed.
---
Tori Bortman is ORbike's resident bike mechanic. She is also an educator, consultant and the owner of Gracie's Wrench. Tori's new book, The Big Book of Cycling for Beginners, was recently published by Bicycling Magazine.