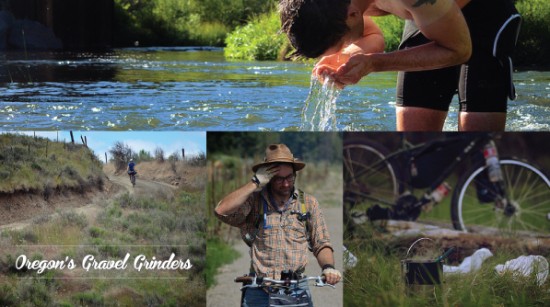 Photos courtesy of Gabriel Amadeus. View more of his breathtaking photos and outback adventures here >>
---
Donnie Kolb has been organizing gravel bicycle rides for the past five years. Usually keeping his events a bit on the down low — Donnie's outings are unsupported, unsanctioned, have no entry fee and crown no winner — the Portland lawyer typically sees about 100 riders show up for his "bikepacking" adventures after posting the GPS coordinates of the route and a "We're doing this on Saturday morning" message on his website, VeloDirt.com.
Big Group Ride with Friends
Think big group ride with friends, albeit really fit friends.
Last year, Donnie's "Dalles Mountain 60", a 60-mile single-day ride on gravel and dirt roads on both the Washington and Oregon sides of the Columbia River near The Dalles, attracted about 200 cyclists, the most yet for a VeloDirt ride.
"The longer they are," Donnie says about his rides, "fewer people show up."
So when Donnie posted his newest and boldest route, dubbed "The Oregon Outback" — a 360-mile gravel epic that starts in Klamath Falls in far Southern Oregon and ends at Oregon's northern border, the Columbia River — he figured he would have a hard time getting 50 other adventurous souls to ride the path he and photographer Gabriel Amadeus blazed last summer.
To Donnie's amazement, he had to shut down registration after 400 bikers emailed that they could not get their cycling kits on fast enough to join him.
Welcome to the next big thing in biking.
Unpaved Paradise
Gravel grinding, dirt road touring, outback adventure, bikepacking — call it whatever you want — interest in rides that eschew the pavement and explore Oregon's abundance of dirt and gravel roads is rapidly growing. Whether using a road, mountain or cyclocross bike, cyclists are flocking to these often off-the-radar group rides that are all about self-sufficiency, exploration and visual beauty… probably with e a lot of climbing.
"People have been road riding forever," says Nastassja "Staj" Pace, the Destination Development Coordinator for Travel Oregon, the state's official tourism agency. "This is a way for people to go back to their childhood when you'd hop on your bike and take off down whatever kind of road."
Travel Oregon has taken notice of rides like Donnie's and races such as the Oregon Coast Gravel Epic in Waldport popping up on the state's cycling event calendar. The state already promotes Oregon's mountain bike trails, popular road routes and designated scenic bikeways, and gravel rides could be next. According to Staj, a 15-person working committee on scenic gravel rides has already been formed, and select routes could be highlighted on the state's bike-specific tourism website, Ride Oregon, in the next year.
"There's not a lot of ego involved and people are just out to have fun," says Bend's Rob Angelo, who competed in the Oregon Gravel Epic last year, about the emergence of gravel riding. "It appeals to both road riders and mountain bikers. Any time you can have make a marriage between those two groups and pull in a cross section of the biking community, you're going to have something pretty popular."
"People are really interested in getting into the beautiful back country Oregon has to offer," adds Staj, who spoke about gravel grinders last week in Eugene at the first Oregon Bicycle Adventure Summit. "These are pretty intense adventures. You're really getting away from it all."
On Your Own
Gravel rides are not for the casual cyclist or spin class all-star. Donnie's Oregon Stampede ride is a single-day, 127-mile loop near the not-so-booming metropolises of Dufur and Moro near the Columbia River. The route features 9,000 feet of climbing and not only rolls on for 360 miles but includes at least one 70-mile stretch along which no drinking water is available. The Oregon Coast Gravel Epic named its long ride "The Abomination" when race organizer Steve Cash told his riding partner — after 10,000 feet of elevation gain over 73 miles — "This is either a great ride or an abomination."
Donnie says having a solid cadre of MacGyver skills definitely comes in handy. "You need to be pretty self-sufficient. You need to be able to fix a flat, use a GPS (unit), read a map. You could be on a road that only sees two cars a day, and if you break down, there's a good chance those cars have already gone by. It's that kind of riding."
Of course, that remoteness is also part of the appeal.
"The biggest advantage is most of the time there is no traffic or very little traffic," says Donnie, who has bike toured on- and off-road throughout the West and Alaska. "And if there are cars, you don't have to worry about them zipping by too fast.
"Oregon has all these amazing areas," he continues. "Places that even cars don't go on. A lot of these gravel roads — they aren't marked — you just have to look at your map and your GPS and make your best informed guess. But that's why I love it."
Upcoming Gravel/Adventure Rides
Eager to put your mettle to the test on an outback adventure? Check out these upcoming rides.
Perry Roubaix | February 8, near Salem – 50 miles [website]
Dalles Mountain 60 | The Dalles, March 8 – 60 miles [website]
Crow's Feet Commons Oregon Outback Bikepacking Adventure | Klamath Falls to Bend, May 14 – 239 miles [Facebook page]
The Oregon Outback | Klamath Falls to the Columbia River, May 23 – 360 miles [website]
Rickreall Gravel Classic | Rickreall, July date TBA – 80 miles
Oregon Coast Gravel Epic | Starts and finishes in Waldport, August – 23, 73- and 37-mile options [website]
The Oregon Stampede | near Dufur and Tygh Valley, October date TBA – 127 miles [website]

---

Beau Eastes is mt. bike enthusiast from Bend and one of ORbike's latest contributors. A version of this story also appeared in The Bend Bulletin.