A big group of cyclists passing through small towns is a huge deal. When you sign up for a supported ride, you're signing on for an ambassadorial role – a chance to make a good impression on a number of people. Some people think bicyclists are jerks because they've seen bicyclists be jerks. We've all seen drivers and pedestrians be jerks, too.
The truth is, all road users make foolish mistakes and intentionally do rude things on the road. But when we're in a big group ride, we are making an even stronger impression, so this is a great time to flaunt our good behavior!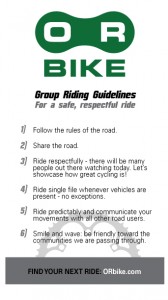 Group Riding Guidelines
Here are the ORbike Rules of the Road for Group Rides, plain and simple without a lot of fluff.
Follow the rules of the road.
Share the road.
Ride respectfully – there are many people out watching during a group ride (farmers, people who live where the ride passes through, drivers). Showcase how great cycling is!
Ride single file whenever vehicles are present – no exceptions.
Ride predictably and communicate your movements with all other road users.
Smile and wave: be friendly toward the communities you are passing through. Group rides often have a big impact on small communities, and you can help set the tone for what that impact is.
Download the Guidelines
Share this handy guide with your next ride. Click here for the PDF file of our Group Riding Guidelines for Organized Rides.
What do you think?
What are your tips for a respectful ride? Share your ideas below in the comments section.
Have fun out there!