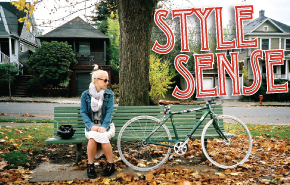 Ladies Looking Good: Quick Study
Quick Study's Dress to Ride project profiles women who looks stylish while they ride. The first segment of this project has concluded. You can see all the great photos here.
This project was used to promote the clothing line, which is specifically tailored to work well while riding, but really it was just an excellent example of how easy it is to look good while riding a bike. Sure, you might find a need for neon, Lycra and rain gear at times, but that doesn't mean you always need to wear it in order to make your legs go up and down over some pedals that propel you forward.
Photo Gallery
Here are just a few of our favorite photos from the project:

More Info