How was your 2013?
What do you wish you did but didn't?
How about mt. biking?
How about Mt. Bike Oregon?
If you've never been to Oakridge, Oregon for Mt. Bike Oregon, you're missing out. This four-day getaway is a mt. biker's dream come true event. And while the trail riding is legendary, Mt. Bike Oregon offers so much more than just killer biking.
For four days, Mt. Bike Oregon takes over Greenwaters Park, situated on the banks of the North Fork of the Willamette River for camping, meals and a nightly beer and wine garden under the stars. There is no on-site car parking, so it kind of looks like a bit like the Burning Man of the mt. biking world – only smaller, and with less fire. People cruise around the park all day, from tent to river to beer garden to dinner out on a trail to the shuttles and to the expo area where you can test ride top of the line bikes. On the trail. Top of the line bikes. Yes, it's true.
Welcome to Oregon. This is how we do it here.
The beer and wine garden supports the Greater Oakridge Trail Strewards (GOATS). MBO participants come from as far away as Japan to experience the world-renown trails, and GOATS makes sure they also get a taste of Oregon's world renown beer and wine. They serve free drinks from area breweries (Block 15, Brewers' Union, Ninkasi, Oakshire, Hopworks) and wineries.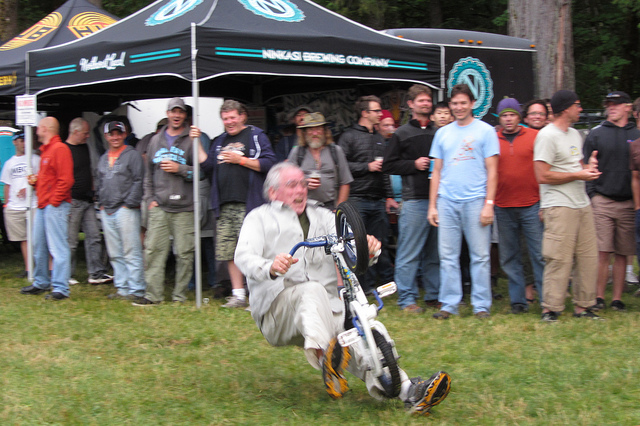 The action heats up at night with ramped up lumbering adults attempting to race around on tiny kids' bikes for the Mini Bike Races. Hilarious antics are guaranteed to ensue. It's tradition, and some MBOers come back year after year to defend their title.
There are only two Mt. Bike Oregon sessions each summer so don't miss out on your chance to experience the magic of Oakridge and Mt. Bike Oregon. See that empty bike in the first photo above? It's waiting for you. Sign up today.