We love the holidays – a time to give thanks to the loved ones in our lives who make our rides sweeter. Gifts come in many forms, and merely taking a friend out for beers or offering a day of house project assistance is a fantastic way to share your friendship.
But sometimes, a present under the tree or a trinket in the stocking is what you crave, and for those moments we've got a list of some of our very favorite perfect gifts for the bikers in your life.
BICYCLE TAXIDERMY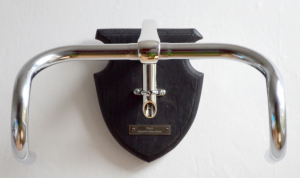 $300 and up
We all know the feeling. That amazing bike, got you through so much, the adventures you had together. The tough times, the sunny rides, the close calls and rolling hills. It's hard to say goodbye when it's time to retire a favorite steed.
But when that time comes, Bicycle Taxidermy is ready to help mount your favorite ride for all eternity. They offer a customized service as well as pre-mounted styles if you're just looking for some wall flair.
IVA JEAN DAILY BLOUSE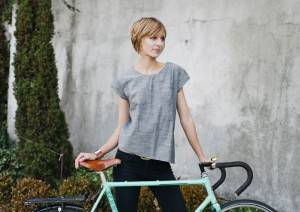 $80
It's lovely. Simple. Unique. Functional. And it represents a new trend we're excited to see: clothing that is comfortable while riding and does not look like "bike gear". Yeah, we're way into that (as you may have noticed).
Iva Jean is a fashion house in Seattle with a limited, carefully chosen line of items that work great on the bike and look fantastic on or off the bike. They're constantly surveying their followers to ensure their selection meets the needs of bikers and the result is a nice simple line that we hope to see expand over time.
The Daily Blouse is the perfect staple for a summertime wardrobe as it pairs nicely with just about anything from jeans or long shorts to a skirt. The design features give in the back to allow for extremely comfortable handlebar operating that won't compromise the seams.
HANDUPS ARE NOT A CRIME FLASK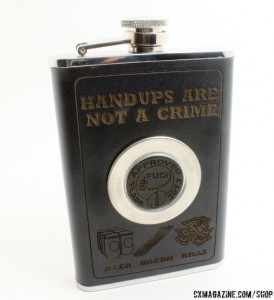 $65
That surely is a pricey flask – but it's also so perfect for the cyclocross racer or racing fan in your life. The design features a pop-out seal in the middle that turns into a drinking glass for the shot aficionado or discerning sipper.
Carved into the flask is a cool design declaring a love for what we all know are the three tenets of cyclocross handups (handing things to passing racers): beer, bacon and bills.
DAPPER BIKE BOW TIE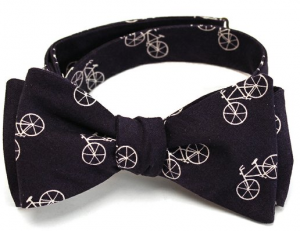 $59
How about an dapper tie to go with that very cool flask? If you opt for this one, we hope the gift receive likes compliments…
Bow ties have a lot in common with bicycles: once you learn how to do it, you never forget, and both are awesome… those are just the facts, it's science. Handmade by friendly Canadians, the Bike Bow adjustable cotton bow tie will quietly let the world know that you're a talented, conscious gentleman who clearly has good taste in accessories and modes of transport. (Note: Do not attempt to tie bow tie while operating a bicycle… or do, but send us the video.)
These are self-tie bow ties, however they come tied, and are adjustable. Of course, to mix it up you'll need to know/learn how to tie a bow tie. The truth is it's easy to learn (thank you YouTube), and worth the 15 minutes, given the number one question people ask bow tie wearers is… 'did you tie that yourself?'
GOPRO CAMERA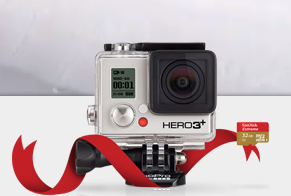 $199 and up
GoPro cameras were developed by a surfer who was bummed there was no way to see what he looked like out there on the board. And the rest is history. Now nearly everyone active has a GoPro and the cameras have come a long way. The price has dropped and the quality and ease of use have gone way up. GoPros pack a punch – a fantastic camera for the price. They're also durable as all get-out, perfect for a rough and tumble outdoorsy lifestyle.
And, perfect, perhaps, for making a little movie for the Filmed by Bike film festival.
CAPTURE CAMERA CLIP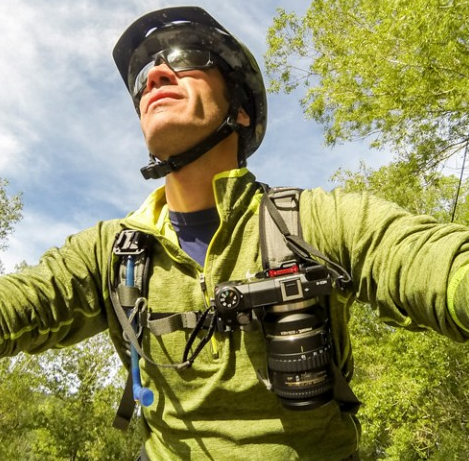 $60
Treat the photo loving biker in your life to this convenient clip that make it easy to shoot and ride.
If you've ever tried to bike with a camera dangling from a traditional neck strap, you know what a hassle it is. So if you're like me, you leave the camera at home way more often than you want to. Adventure cyclists and photographer Gabriel Amadeus (photographer for our Gravel article) has put this little clip to the test through harsh conditions and thinks it is pretty sweet, so we'll take his word for it.
PO CAMPO SIX CORNERS HANDLEBAR BAG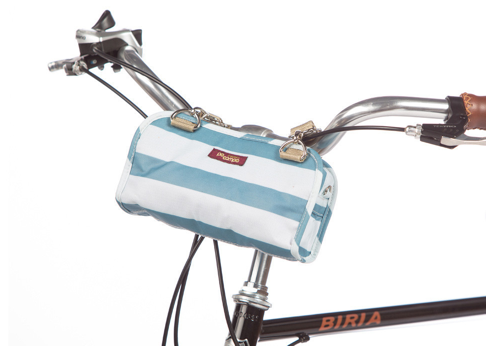 $45
These days, there are a million bags that are purportedly perfect for when riding your bike, most of them in just about exactly the same style. Then along came the PoCampo, the first bag of its kind to offer a stylish and functional option for the discerning cyclists.
The handlebar bag is perfect for daily use or when heading to a formal function. The bag clips securely to the handlebars of pretty much any bike. It looks just as good on the bike as off, meaning you don't have to enter the restaurant looking like you're hauling around your bike gear.
PoCampo bags come in a variety of patterns and sizes, but we like this one because it essentially functions as a purse for those special nights out.
And, we like the idea of buying from PoCampo. Owner Maria Boustead has worked hard over the years to launch this innovative bag. She got started when there was nothing else out there like it, and she never got discouraged to keep at it through thick and thin. We really like what PoCampo is doing and hope to see them thrive.
YOGA FOR BIKERS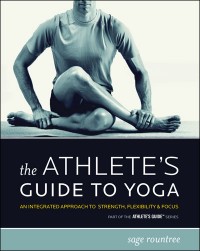 Various prices
Winter. Our muscles tense to protect us from the cold. We shudder and stiffen. Let's face it, we're not on our bikes as much as we'd like to be, and when we are it's not as loose of a ride. That's why at this time of year stretching and integrating complementary physical activities are more important than ever.
Forget any notions you have about yoga being a chanting hippie activity. Sure, if that's your jam you'll find it within yoga, but the discipline is as varied as cycling (BMX, triathletes, beach cruisers, cyclocross, tall bikes, handmade bikes… you get my drift). Many styles of yoga focus on stretching out, limbering up and core strength – all crucial activities for bikers.
So we've got two suggestions:
1) a punch pass to a convenient yoga studio, especially one that specializes in yoga for bikers, like Belmont Yoga or this special Bike-Centric Yoga class series at PedalPT.
2) The Athlete's Guide to Yoga. This basics book is perfect for someone who already has a rudimentary understanding of yoga and is disciplined enough to bust out some yoga in the living room. Available from Velo Press.
UNDER $25
Stuff the stockings or say a little thank you with these awesome gifts for under $20.
KEEP IT LOCAL – BIKEASAURUS PORTLAND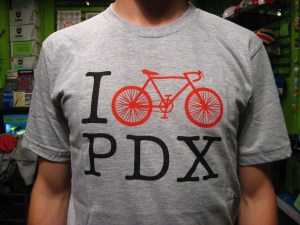 Various prices
Bikeasaurus carries a wide variety of clever gifts for the biker in your life. Walk in with your list, walk out with every biker well covered. This creative shop is located in SE Portland and specializes in carrying products from area crafters.
ALCHEMY GOODS – GOING OUT WALLET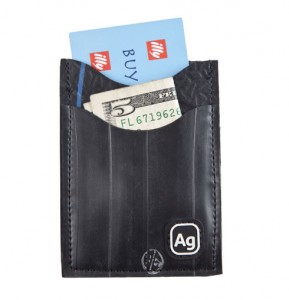 $12
I've had one of these little jobbers for years and they're perfect for their intended purpose: slim down for a night out on the town. The little wallet made from a bike tube is sized just right for an ID, credit card and a little bit of cash. What else do you need when you're out on the town getting into a little bit of trouble?
The rubber material grips the contents well ensuring that nothing slides out and you can party worry-free. It's not your every day wallet, but it's perfect when you want to travel light.
Plus, Alchemy diverts thousands of bike tubes from the landfill every year through their extensive line of refined bike tube device sleeves, belts, messenger bags, day packs and more.
LEG LUBE PERFORMANCE SHAVE GEL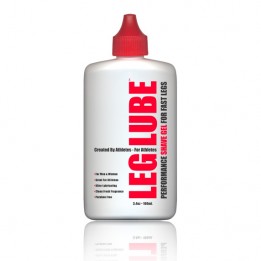 $9
The ultimate shave gel for men and women that works in and out of the shower.
This lubricating formula reduces drag, nicks, in-grown hairs, razor burn and dry skin. It can be used anywhere you shave – whether that's your racing legs or those delicate areas you like to keep sleek for the post-ride hot tub action.
PARK TOOL BIKE PIZZA CUTTER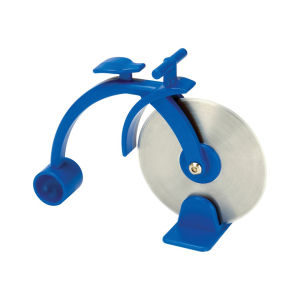 $23
Ride hard. Earn that pizza. Cut it up with this cutesy pizza cutter from Park Tools.
Declare yourself a hardcore biker with this fun kitchen accessory. A bit over the top? Perhaps, but for the first time I bet you won't want to toss this in the drawer when you're finished with it. This baby's going on the kitchen window sill, for sure.
FLEXPRO SPOKE LIGHTS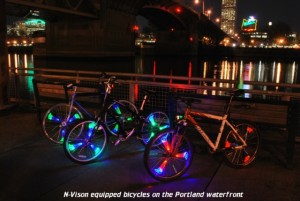 $20
These lights from Oregon City-based company FlexPro are a fun addition to your night ride. Bling out with these colorful wands.
WHAT'S ON YOUR LIST?
Whether for getting or giving, what's on your holiday wish list this year? Weigh in below and help us discover the perfect bike gifts.