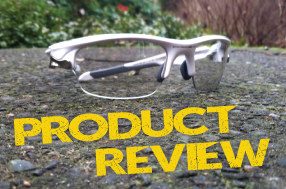 Weather in the Pacific Northwest, ugh! One minute it's sunny, then it's cloudy, then you're spattered with rain, then it's blindingly sunny again. You never know what to wear – and forget about finding a pair of sunglasses that works for your entire ride.
Over the last few months, I've been trying out a pair of Oakley Transitions and I've finally found a pair of glasses well suited for Pacific Northwest cycling conditions, where mottled shadows obscure potholes, and sudden sunbreaks turn rain-slick streets into mirrors.
Quick Overview
The Transitions come in a variety of colors, but the lenses I was testing were the Clear to Black Iridium, which were recommended to me once I described Pacific Northwest cycling conditions. The frames are the Fast Jacket.
What I Like
These lenses are great for nighttime. For years I've scoffed at my husband for wearing clear lenses at night — until I got the Transitions. I started wearing them especially on chilly nights when normally I'd have tears streaming down my cheeks because of the wind. The clear Transitions keep my contacts from drying out, and keep my eyes clear. I'm totally sold.
The tint is spot on: They adapt to the perfect amount of coloring — always just dark enough to block out sun, but light enough that I never have trouble spotting potholes and debris in the road. The Iridium® coating reduces the glare, too.
They're very crisp: I'm the queen of the $5 sunglasses, so I was pretty blown away by just how crisp and clear these lenses are. It's certainly a worthy investment for something you'll wear so often.
The frames are a good fit even for a small face: I often have problems with glasses wanting to slide off the end of my nose, but the Oakley Fast Jacket frame doesn't do that. The Unobtanium® on the ears and nose pieces is supposed to increase grip even when you're sweating, and it really seemed to work. Unlike most sunglasses I've owned, I can wear them for hours without my ears hurting. But with a name like Unobtanium®, I have a hard time talking about it without giggling.
They make me go faster: Maybe that's not actually true, but they certainly look like it, don't they?
Not a Deal-Breaker, But…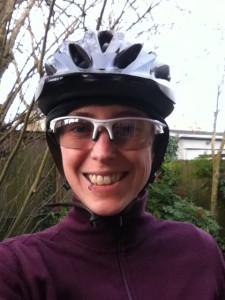 They don't work well in cars: After noticing this, I looked it up. Because the Transitions darken at the invisible caress of UV rays, they tend not to get too dark inside a car. The Adaptive lenses weren't engineered for car-driving, so this obviously isn't a deal breaker if you're primarily looking for riding lenses. Their XTRActive and DriveWear lenses are both designed to activate behind a windshield, a nice option if that's a priority for you. You can see more about there different lenses here.
They get spotty when it rains: Another affect of the UV-sensitive lenses is that if it rains, the UV rays are concentrated in the raindrops — meaning that the lenses can develop little spots for a few minutes. I really only noticed the uneven darkening when I took them off, so it didn't affect my vision while wearing them.
The Options
Oakley Transitions have a whole range of tints, but a few are optimized for cycling. The lenses are available in most of Oakley's frames.
You can get these lenses in:

Clear to Black Iridium (the ones I just reviewed)
Red – designed for endurance athletes to eliminate road glare and allow a calming red light to enter the eye
Rose – designed to increase contrast and depth perception in bright or hazy conditions

What Are Your Favorite Lenses?

Let us know in the comments below.

Jessie Kwak is a writer who loves to type about the good life: travel, outdoor adventures, food and drink, and (of course) cycling. You can find her at Bictoro: Bikes and Crafts.