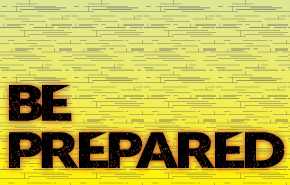 How (and Why) to Prep for Your Big Event NOW
The Boy Scouts are catching a lot of flack these days, but their motto is still good with me: Be Prepared.
"But my race/century ride with buddies is months away…" you argue.
START NOW: SPRING SAVINGS
The best time to get ready for events in May, June and July is right now. Your bike will be running better, which will get you out on the road sooner and give you a jump on training this season.
First off, head for the bike shop. This is the time of year when bike shops have clearance deals on previous years' bikes, parts and accessories so take advantage of those spring sale savings. Were you looking for that perfect excuse to buy a new bike? This is it.
EARLY SEASON MAINTENANCE
If you're not in the market for a new bike, save yourself some event prep stress and have a tune-up done at least a month before your event. Waiting until the last minute might seem like an okay idea, but new cables take time to settle in and need re-adjustment shortly after they are installed. Bike shops are also busier in the summer months.
There are other issues that might surface or parts that need to be tweaked before the ride, and you'll be up a creek without a paddle if your bike needs parts that have to be specially ordered.
Even if your ride had a tune-up last fall and has been sitting in the garage, the shop will still be happy to look at it to make sure all is running well.
TWO ESSENTIAL PURCHASES
While you're at the bike shop, invest in two essential items: a bottle of good chain lube and floor pump with a gauge. These are the two most important home tools to make your bike run its best on every ride.
YOU PROBABLY NEED A NEW HELMET
How old is your helmet? Most manufacturers recommend replacing yours every two to three years. This may seem frequent, but the foam padding and insulation break down over time and wear from the sun's UV rays. A new helmet never hurt anyone, and a worn-down one isn't worth the risk.
DAY SPA FOR YOUR BIKE
As the weather warms up (Hello! seventy degrees in March!), give your bike a complete spa day. Like spring cleaning your house, giving your bike an intensive de-griming will make it shine and run like a champ. You can read more about how to make this happen from my earlier ORbike article.
LEARN ONE NEW THING (IF NOT MORE)
It's a great idea to learn one new thing about your bike before the summer.
Don't know how to change a flat?
Want to learn better descending or shifting techniques?
Wondering about getting a professional bike fitting?
Adding a new skill to your repertoire will give you more confidence, make you a better rider and reduce stress which makes riding more fun—and who doesn't love that?
HAVE FUN!
With all these tasks out of the way (by May! Make that your goal!), you're free to relax in the saddle and enjoy the ride. There are plenty of cool rides to choose from. Peruse the ORbike calendar or head out on your own.
---
Tori Bortman is a bike mechanic, educator, consultant and the owner of Gracie's Wrench.