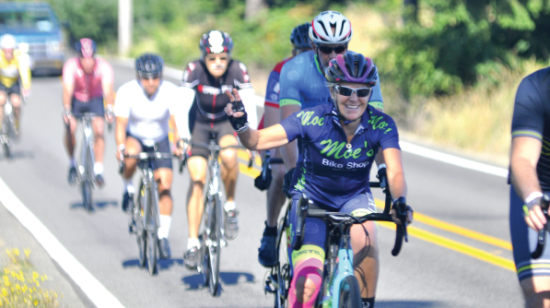 June 29 – Wilsonville
The Salmon Cycling Classic is a gorgeous ride through the fringes of Portland to raise awareness for a new bicycle bridge that will cross the Willamette River. The event, based out of Wilsonville, features routes of 57, 37 and 16 miles – they call them the 90k, 60k and 25k.
Meet the New Bridge
All you have to do is pedal, and you'll be helping make this monumental bridge a reality.
A new bridge project is being design for the Wilsonville area that will allow bikes and pedestrians to cross the Willamette River with ease. The bridge is in the early planning phases, but it is far enough along that the City Council of Wilsonville and Clackamas County Board of Commissioners have selected a desired site. For millennia this site has been used by native people to cross the river. Extra care was taken to study the area and ensure that no native heritage sites would be disturbed.
Have you ever traveled across the Tilikum Crossing in Portland? It's a special experience to be high above the river to enjoy the views without the din of traffic whizzing by. This new Wilsonville bridge will greatly contribute to the bicycle landscape of that region.
Ride to Eat… Salmon!
The finish line party features a Cedar Plank Salmon Feast, which comes included with your 90k or 60k ride entry. Tickets for the dinner may be purchased individually as well.
The organizers have planned a scrumptious menu featuring the freshest regional salmon, tasty side dishes and seasonal Strawberry Shortcake. What a way to end the day!
Ride Features
Each rider will be entered into a raffle packed with stellar prizes. The first 250 to register will be awarded a commemorative specialty salmon medallion. What a keepsake this will be – the perfect way to celebrate the bridge and know you were one of the people who helped make it happen!
Many rides these days are big challenge events – long days on gravel, extended centuries, etc. We love that this ride isn't a big commitment. This is a ride that won't eat up the entire day, but definitely packs a punch. The 90k comes in at what we consider the perfect challenge sweet spot: 57 miles and 5,500 ft of elevation. Yes, please!
Free Family Ride
The 16 mile ride is free for families! This short, fun route is the perfect way for people of all ages to show their support for the bridge. Just imagine when the kiddos and all grown up and they can cross the bridge knowing they were a bridge pioneer!
Event Details
---
Headline image credit: Wilsonville Spokesman