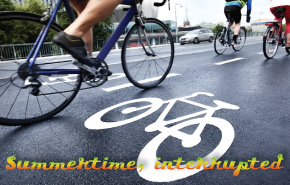 Oh these lovely summer days with cool mornings, hot afternoons and breezy evenings. Sipping beers, dipping in watering holes and harvesting the garden's bounty. There's nothing quite like the secret summers of Oregon.
And then come the rains. There are always a few rainy days in the summertime and it can be easy to get caught off guard. Here are some tips for your bike commute on those dreary days.
Light Layers
Just like winter, layering is good in the summertime. Keep your under layers light since the weather is warmer. A tank top, long sleeve and a rain jacket. You might want to tuck your work shirt in your bag since even the most breathable rain jackets still increase the likelihood you'll sweat on your ride.
Keep Riding
You're tempted to drive, but don't give in. You're on that summertime roll of biking consistently, so keep it going. A little light rain in the summer is no big deal, and you'll feel better if you just suit up and hop on the bike.
Air it Out
Just like in winter, your gear needs to air out to dry if you want to avoid the stink. Ensure there's plenty of airflow around your gear and it should dry out pretty quickly in the summertime.
Fenders Off
Chances are good you've removed your fenders for summer, and that's okay. OF course you aren't going to put them back on just for a day of riding. Avoid the bigger puddles if you can, wear rain pants even if you don't prefer them and keep your distance from other riders. IF you have a rear rack, a piece of cardboard or other barrier strapped along the rack can act as a quickie rain stopper. You might also want to own a clamp on seatpost fender, which is an easy quick-release method of installing a little fender on the back.
What are Your Tips?
What do you do when our suntastic summers are interrupted by rain? Share your ideas below.