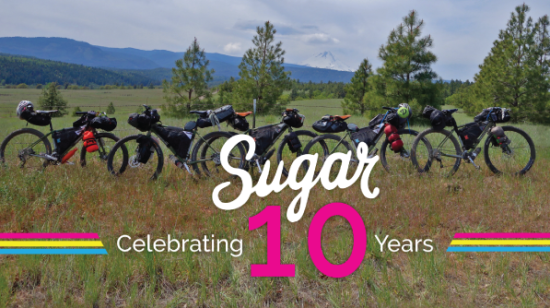 Sugar Wheel Works Anniversary Parking Lot Party
The Portland-based custom wheel building company Sugar Wheel Works is turning 10 which is no small feat in the bike industry! That means it's time to celebrate. Join them for an awesome parking lot party in their new home at Breadwinner Cycles.
Saturday, May 4
2:00-6:00pm
2323 N. Williams – Portland, Oregon
All ages, family friendly
Rain or shine
EVENT HIGHLIGHTS
Enter to win a set of custom Sugar Wheel Works wheels!
Complimentary beer, cider and snacks.
Tours of the new Sugar Wheel Works shop and Breadwinner Cycles.
Meet the Sugar Wheel Works team.
Hang with your bike brethren.
Chat with Sugar Wheel Works owners Ira Ryan and Tony Pereria.
Sugar Wheel Works founder Jude Gerace will be on site. If you're really lucky, she just may regale you with stories from the early days of Sugar, when the shop was only 64 sq. ft.
ON SITE RAFFLE
Must be present to win.
Tickets are on sale from 2-5:15 pm on site.
The raffle takes place at 5:30 pm.
Tickets are only $2, so you should plan to buy a bunch.
Cash only. Arrive with a fat stack of dollahs and cross your fingers.
Proceeds benefit WTF Bikexplorers, a community that supports WTF self-identifying riders who love to explore by bike.
HOT SPECS! Astral Outback 650B wheelset featuring a Chris King Components matte Jet (black) hub in CL disc. Custom built by Sugar Wheel Works.
FREE ONLINE SWEEPSTAKES
It's easy – you don't have to be present to win.
It's free to enter.
HOT SPECS! Astral Wanderlust rims with a fine White Industries hub. Custom built by Sugar Wheel Works.
Entry on May 1-4 only!