The first of falling autumn leaves dance down the street. Summer's green gently shifts as burnt umber and crimson washes over the landscape. Long shadows reach across the roads in the way that only the late-summer-early-fall light can do. Cooling temperatures mean breaking out the knee and arm warmers for early morning rides. And we do it gladly because for many of us, this is THE season for cycling.
The Harvest Century—long renowned as The Last Organized Ride of the Season—is a celebration of this wonderful season, offering 24, 45, 75 and 100-mile routes west of Portland in the heart of the fertile Willamette Valley. The routes explore rolling farmlands and vineyards from the North Plains to as far south as Canby, and everything in between.
The harvest theme is present in this ride in the amenities and treats found along the way, with stops at small family farms for hot cider and farm-fresh snacks. But perhaps the crown jewel of the Harvest Century is a stop at Montinore Estates winery for a special flight of their award-winning wines.
The Willamette Valley has no shortage of vintners but what makes Montinore stand out is their commitment to sustainability. In fact, Montinore is the largest producer of biodynamic wines in the country. This means their commitment to sustainability goes even beyond accepted organics standards. You know when you enjoy a bottle of Montinore's wine, you're not just supporting a local grower, you're supporting sustainable farming practices.
The 45, 75 and 100-mile routes all feature a stop at Montinore, where the winery is offering a special flight tasting for Harvest Century participants.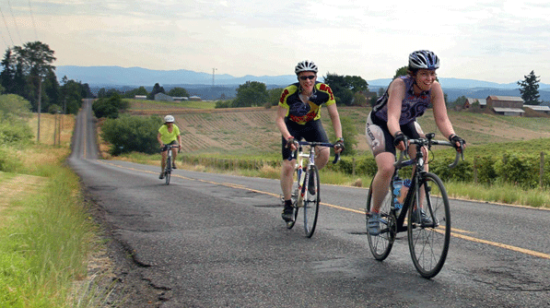 Find something you like? Buy it on the spot! No need to stuff a bottle into your jersey pocket—the Harvest Century support crew will transport your purchase back to the finish for you.
Portland's cycling culture is inextricably linked to beer; it seems the two go hand in hand. But if you fancy yourself something of a wine lover, this is the ride for you.
P.S. Don't worry—the event features plenty of beer at the finish line party if that's really your preferred post-ride libations.