This winter, we're on a mission to make your rainy cold riding more comfy. That's why we love this overview that our friends at ECHOS Communications put together. It's a handy guide to all the items you need to be safe, warm and dry on your bike, including a few of the local brands we love like Showers Pass and North St. Bags.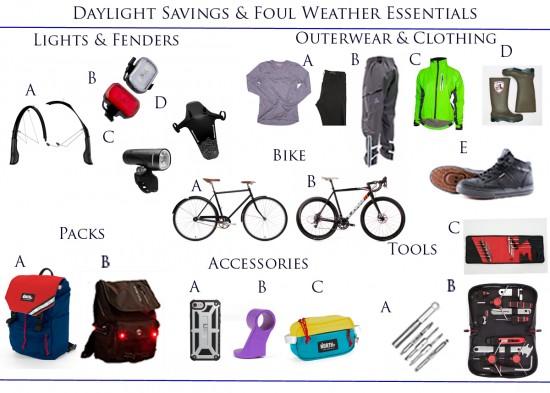 For Your Bike
A. State Bicycle Elliston City Bike – Ride in style, come rain or shine. The Elliston features a time-less flat black finish with chrome accents, a slick leather saddle, mustache-bars and larger tires for a cushier ride. Whether you're going for a joy-ride around town or racing to work, get ready to own the streets with these polished set of wheels.
B. LOW MKII CX – he hustler at its core, the mkii features disk brakes for quicker stops, and fully internal shifter and brake cables for reliable performance and a clean, streamlined look. It's sleek beauty is composed by a blend of proprietary and beautifully hand-shaped butted aluminum tubing and precision handling & strength with quality workmanship and smooth welds.
Outerwear
A. Thunderbolt Sportswear Mark II Original Pants & Baseline Marley Longsleeve

B:Showers Pass Refuge Pant – Outlast the nastiest weather with these reflective rain pants. Made with their highest performing Elite waterproof fabric that lets you breath while staying dry.
C: Showers Pass Hi Viz Elite – Why stop at pants? Here's your one-stop, all-purpose Hi-Viz jacket this winter. Designed for maximum outdoor use, featuring Elite 3-layer, fully-seamed performance fabric and extra-long core vents to prevent overheating.
D: DZR H2O Shoe – Never deal with another rain-soaked commute or trail ride again with these first-ever fully seam sealed waterproof SPD compatible Sneakers. Wrapped with DWR treated supple sheepskin leather and a stiffer rubber traction outsole for excellent power transfer and grip. The H20 guarantees that you arrive at your destination with dry and happy feet.
E. Speedvagen Ichico Pit Boot – New for the 2015 CX season, Army Green pit boots with the SV shield. The boots are US made and insulated for cozy feet while standing in the mud at the races.
Packs
A: North St. Morrison Backpack Pannier – The perfect companion for light day trips, the work commute or cafe with friends. Easily go from road to shoulders with the simple mount and hook bike attachment. Features include a waterproof liner, reflective accents and zippered front. Made with military-grade nylon shell, this backpack provides quick access while keeping elements at bay.
B: Showers Pass Cloudcover Transit Bag – Embrace the elements with this fully waterproof, lightweight and self-supporting bag, featuring highly reflective integrated LED lights for exceptional visibility. Made with strong welds and aluminum hardware to withstand even the most foul weather.
Lights and Fenders
A: Blackburn Central Fenders – Simple, clean design to keep both you and your friends dry. With 4 popular sizes to choose from, easily install on a wide variety of bike sin no time.
B: Blackburn Design Click Front / Rear USB Light – Free yourself from the hassle of batteries! This small but essential accessory makes you visible to traffic. Bright side beams throw off additional light, and the silicone mount fits almost any handlebar. A Micro-USB cable makes it easy—just charge, click and go!
C: Blackburn Central Front Smart Light – Focus on the road, let these lights do the rest. Ride through dark to bitch black with this auto adjusting focused beam.
D. Blackburn Design – Barrier Mud Guard – Stay shielded from grime, dirt, and crud with the ultra portable and top performing front mudflap. The Barrier Mud Guard by Blackburn Design features a sleek minimalist design that is lightweight, portable, and offers total coverage. It mounts with ease with reusable hook and loop straps and is exactly the protection you need when the trail gets sloppy.
Tools
A: Blackburn Switch Multi-tool – Travel in confidence with this handy compact kit and high functional kit. Includes T25 and T30 torx bits, 2.5, 3, 4, 5, and 6mm allen bits and a flathead screwdriver. Individual T or L handle tools let you access tight places and give you more leverage on bolts and screws.
C: Feedback Sports Ride Prep Tool Kit – Fine tune your bike before or after a ride with this set of essentials. Perfectly sized to keep on the bench or in the car.
B: SILCA T-handle Folio – The Sliding T-Handles combine fully forged single piece main bodies (not welded!) with sliding, oversized cross members featuring end stops AND a center detent to lock the handle in the T position (something lacking on most sliding T's). The kit bag is made from 12 oz. Waxed Duck Canvas, computer quilted with premium reflective thread.
Accessories
A. Urban Armor Gear Monarch Series Phone Case – Premium design and precise engineering to provide a case that meets double the
B. Paul Components Stem Cap Light Mount – The Stem Cap Light Mount lets you mount a light, phone, or handlebar accessory right above the center of your stem. (Actual anodizing colors may vary).
C. North St. Bags Pioneer 9 & 12 – Pioneer Packs, Hip Packs, Waist Pouches, Lumbar Bags, or even Fanny Packs. Whatever you call them, it's handy to have your quick access gear at your side when you need it. Working equally well as a Phone case, Camera bag, Dopp Kit, Travel Cube, Bike Handlebar Bag, or a Saddlebag, our Hip Packs are ready for whatever great adventure you have planned.