Artist Carla Bartow is well known for her woodcut-style illustrations that have been the basis for bike culture posters like the Tweed Ride. Fitting with her artistic style, Carla takes a casual approach to her cycling apparel. But when she started a new job that required a long seven mile commute across town, she began to re-asses her apparel and opted for cleated shoes.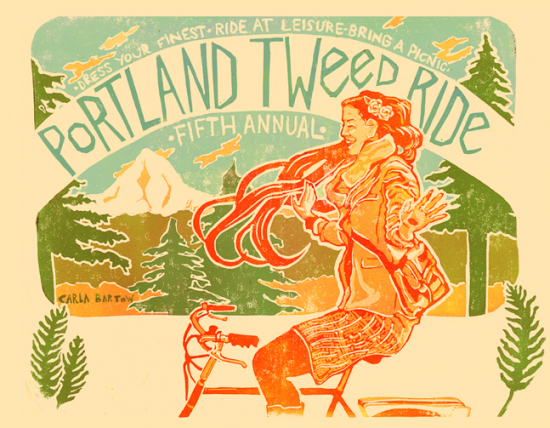 We've long been proponents of dapper bike shoes, something that's nearly impossible to find. The best ones made by Specialized in 2009 were never made again. The leather options usually only come a few large sizes, typically for men's feet, and come with a hefty price tag. The Specialized Recon is almost awesome, but because it's made for all terrain it has too much of a sole than we're looking for. Our goal is a solid everyday bike shoe that doesn't look like a bike shoe, it just looks like a good looking shoe. You can walk straight into that meeting. This shouldn't be a lot to ask.
So we sent Carla off with a pair of DZRs. The brand has a more casual style and spent some time making shoes specifically for bike polo. They first caught our attention back in 2013 or so and we've always liked their style, though we're disappointed that some of the coolest styles are only available in larger sizes that typically fit men's feet.
Carla spent some time giddily pedaling to her new job, and says the DZRs made her ride awesome.
Overview
I wear a women's size 8 1/2 and the size 40 fit fine.
During the break-in period, the heels' upper cut into my ankles while walking, but it went away after continued wear.
I have wide toes, and did not feel cramped in these shoes.
Cleat clearance on these shoes was nice and generous, allowing easy clipping in and out.
The sole of the shoe was stiff enough to give a lot of power, while retaining some flexibility for walking.
The shoes were comfortable enough to wear at work or cook dinner in.
I really enjoyed the aesthetic design of the shoe. The leather end to the strap and heel made them appropriate for dressier occasions.
The Velcro seatbelt strap makes for easy on and off, and is incredibly durable.
The multi-layered canvas shoe is warm. I ended up waxing the canvas for my rainy commutes.
Get to Know Carla
Check out some of Carla's impressive work here.
Photo Gallery