July 13, 14, 20, 21, 27 or 28
(Awaiting Edgefiled's concert schedule)
Welcome to ORbike's challenging "Club Ride."
A "Club Ride" is an event where you get all of the safety elements, without any of the expensive amenities.
Hood and Back is an out-and-back ride. If you ride the whole distance, it is almost 80-miles and almost 6,000 feet of climbing. But you don't have to ride it all. You can turn back whenever it suits you. All roads are low-to-no traffic and the views are gorgeous. Most of the climbing is gradual but there are a couple of steeps going each way.
ORbike is an equal opportunity recreation provider operating under special use permit on the Mt. Hood National Forest, USDA Forest Service.
What is included?
Well-marked route +  Ride with GPS

5 Rest Stops

Toilets every 15-miles (average)

Water & Electrolytes

Light snacks (Bananas, bars, salty snacks)

Support vehicles (just in case)

Support riders

Hot coffee in the morning

Watermelon at the top!
Sack lunches are available for purchase when registering.
Ambassador Pricing:
The earlier you register, the more you save - not by date, but by registrants.
Register early and recruit your friends.
Riders                  Cost
1-100                   49.95
101-200               54.95
201-300               59.95
301-400               64.95
401-500               69.95
Ride attendance is capped at 500 riders.
Group rates do not apply.
CANCELLATION AND REFUND POLICIES
Events Policies and FAQ's: ORbike.com/FAQ
DETAILS, Details, details: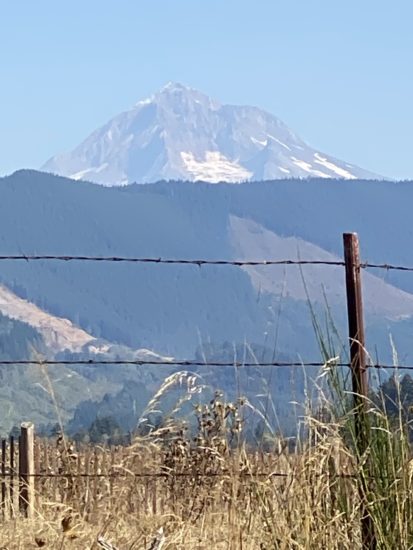 Where:  McMenamins Edgefield (Free on-site parking)

2126 S.W. Halsey St., Troutdale, OR 97060
Start time: 7am -10am   Hot coffee provided
Finish time: You decide. (Course closes at 5pm)
NOTE: There are nine (9) bars and restaurants on the Edgefield property for post-ride refreshments.
Rest Stops Open:
Dodge Park (#1,5): 8:30am - 3:30pm
Sandy Ridge Trailhead (#2,4): 9am - 2:30pm
*McNeil Campground (#3): 10am - 2pm
Riding outside of these times means riding outside of support, including SAGS.
*There is no cell service within 4 miles of McNeil Campground. Riders later than 2pm will be SAGed forward (toward the finish).
Sack Lunch: $15
Ham & Cheese, Turkey & Cheese, or Veggie Sandwich, Apple, Kettle Chips, Pepperidge Farms Mint Milanos, and a Soda
ONLY available when registering.
ONLY served at Sandy Ridge Trailhead.* (2nd or 4th stop) *New for 2024.
Some views along the way:
Some views from Edgefield's 9 bars and restaurants: