Skull 120 | June 15, 2019 – Burns, Oregon
It's known as the world's gnarliest gravel grind. The Skull 120 is a backcountry adventure based out of Burns, Oregon. That's Harney County, home to endless opportunity for the self-sufficient backcountry traveler. Visitors who seek challenge and solitude will find these in abundance at this event.
Technically this is a race, but you can also approach it as a ride, if you're not the racing type. Routes range from 30-120 miles, each one stuffed with chunky gravel and plenty climbing.
It has been described as a "bucket list ride," one every challenge rider should aspire to conquer.
PRO TIP: Registration fees double on June 10 so register early!
An Incredible Ride Experience
So just what is it like to ride this gorgeously rugged event? Journalist and experienced rider Jonathan Maus of BikePortland.org described it this way:
"I spent just under 10 hours on my saddle in near constant amazement at the diversity of terrain and magnificence of the pristine environments we rolled through. The roads were white, all shades of brown, red, and even green where we rode across meadows on what seemed to be nothing more than cattle cut-throughs. We could see a 360-degree panorama of forests, valleys and sky…. We bumped and grinded by vast prairies, remote lakes, hidden canyons, staggering viewpoints, and even a few water crossings where staying dry was not an option."
Something for Everyone: Bring the Entire Crew
Skull 120 may be burly, and perhaps it's not for all of your riding buddies. But there is plenty of see, do and ride in Harney County all weekend long. The website lists cool activities for riders and non-riders alike, including some of the best rides in the state and relaxing hot springs.
Watch the Video
Highlighting Public Lands + Rural Communities
Skull 120 highlights the lands owned by the American public owns and, in this instance, managed by the US Forest Service and the Bureau of Land Management. These lands are available for the American public's use, be it cycling, hunting, fishing, camping, grazing, mining, timber harvest, etc.
The ride also highlights Harney County. Out there, the county is the community.
"There are some really great people here, there is an opportunity for people from outside the area to interact with many of the fine people that live and work here and to dispel some biases and prejudices on both sides," says ride organizer Cameron Sanders. "The Skull 120 is the brainchild of employees of the Harney Chamber of Commerce, Forest Service, BLM and Oregon State Parks to help promote the area and increase economic development. Like many rural communities in the country, Harney County struggles. We believe that 'adventure' tourism and hosting events like the Skull 120 will assist in adding some diversity the the county's economy. It is part of the equation for adding some 'economic resilience' to the community. Who knows, maybe this could lead to people opening a cycling shop and/or a touring company based right here."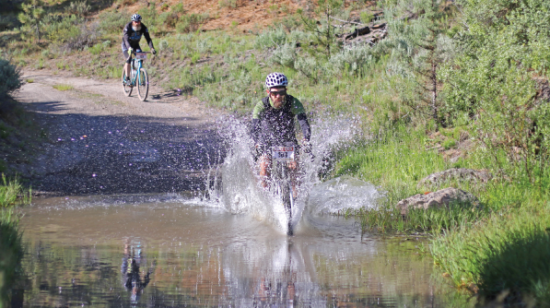 More Information