Tour de Lab – AROOOOOO!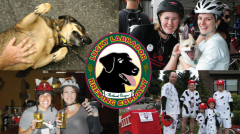 Round up your pack and get ready to circle the city on a doggone fun puppy love adventure to support DoveLewis Emergency Animal Hospital. Tour de Lab on September 4 is an annual tradition that is not to be missed.
About the Ride
There are two courses: 15 flat miles (The Puppy) or 40 hilly miles (The Big Dog).
Along the way, you'll earn your dog nose and ears as you conquer each rest stop on your way to the big prize: The Dog Park Finish Line Party. Relax and enjoy the final dog days of summer as you sip on a Lucky Lab pint or two; the commemorative etched pint glass is yours to keep.
Bring Your Friends!
Tour de Lab is definitely a ride, not a race, and it's meant to be a leisurely day of exploring Portland and having fun. The ride is even more fun when you come as a crew, so round up your friends. This easy, flat ride is perfect for people who are new to riding, and the perfect opportunity for you to help your newly riding friends have a great time on two wheels.
Free Passes
We give away passes to rides all year long through the ORbike newsletter. You can join the ORbike newsletter on the right hand side of the page here. Big congratulations to Deon Parmley from SE Portland who won last year's passes to Tour de Lab. This year's winner was Ruth Page, who says that this will be her fourth year riding.
More Information