I've hauled my fair share of ridiculously heavy loads over long distances. I've biked to the river with rafts in an army surplus duffel bag slung over my shoulder and hauled freshly cut firewood in my cargo bike. But when I'm bike camping, the last thing I want is a bike that feels like a boat anchor. Sure, there's satisfaction in being the strong rider who can pull everything including the kitchen sink out of your bicycle bags when bike traveling, but I prefer being unencumbered and light on my tires.
I always scoffed at the the ultra-minimalist crowd, dismissing them as masochists, but I've realized one doesn't need to suffer in order to go light. By packing light I can enjoy fast, technical singletrack or long gravel roads while still carrying everything I need to camp comfortably anywhere. It's extremely fun and liberating.
Here are a few guidelines I follow.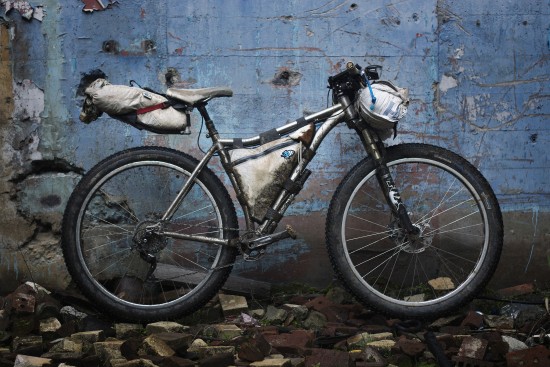 Ditch the panniers
Panniers are extremely handy and I still use them almost daily. But they're almost too handy—when packing for a trip I have a tendency to keep throwing extra clothes, food and beer into my panniers until they're full. With soft bikepacking bags from companies like Porcelain Rocket and Revelate you limit the amount of space available and are forced to pack only the necessities. As a bonus, soft bags attach with velcro and eliminate heavy racks and reduce possible mechanical problems.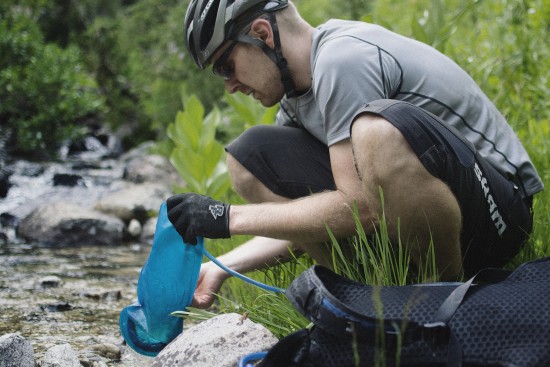 Plan water and food carefully
Besides your bike, water is your most heavy item. If you're going on a four day trip I bet you don't need to carry four days' worth of water with you. Carefully look at your route and identify convenience stores and water sources to filter water from. Most convenience stores carry a lot of the same items (I've event got a couple go-to camping recipes based on their selection). Gorge on fresh water when you find it and fill your bottles frequently throughout the day, instead of one big fill in the morning.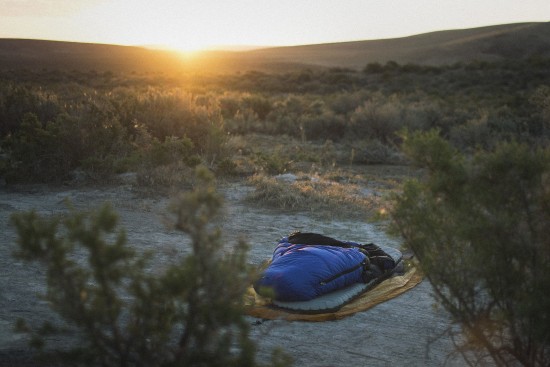 Don't buy new gear — just pack less
I'm guilty of going down the "best gear" rabbit hole myself, but a lot of the time the "best" is "none." Do you really need that hatchet/chainwhip/champagne/tea kettle/pants? Many of my trips I leave the tent at home if I am headed to a dry desert area. Instead of three changes of clothes I'll wear my thermal layer under my shorts and wrap myself in my sleeping bag.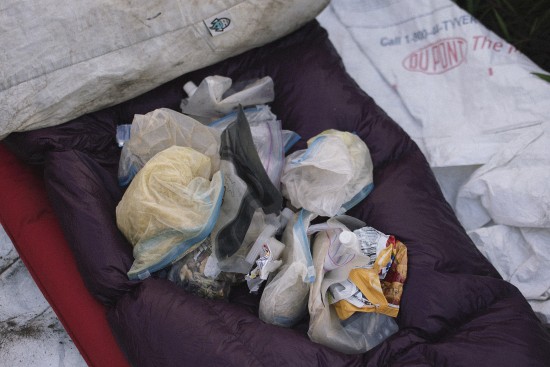 Repackage everything
Just like the above tip, look at all your consumables with scrutiny. Buy a box of ziplocs and squeeze bottles and ditch all your food packaging. Put ibuprofen, electrolytes, and other medications into ziploc bags. Squirt just the amount of sunscreen or bug dope you think you'll need into tiny bottles. Put your bourbon or wine into platypus bags. You'll be surprised how much space and weight you can save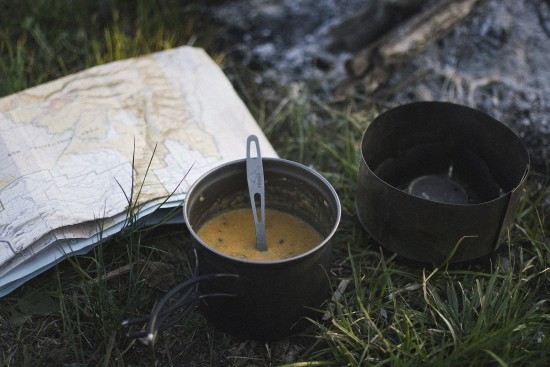 Toss out your compression sacks
If you compress everything you end up with a bunch of egg shaped lumps that don't stack together very well in your bags. Wedge your clothes around your stove. Wrap your pad and sleeping bag into a tight roll together. Play around and see what pieces of your gear fit into each other and develop a packing system that you use every time.
Focus on space, not weight
If you're familiar with backpacking you probably have a pretty light kit already. Even if you're just starting out, it's prudent to focus on packability and compression more than just ounces. Bikepacking bags are oddly shaped and unlike a backpack it can be hard to squeeze everything onto your rig and still maintain a svelte package. Things like switching to hydration bladders instead of bottles or using down instead of synthetic sleeping bags can make a huge difference.
How do you adventure?
What are your tips and tricks for packing light and enjoying the rugged road? Share your ideas (and questions!) below.
---
Gabriel Amadeus is an expert bikepacker who has explored much of Oregon's rugged outback. He is a designer, explorer, photographer and writer. Gabriel is also one-third of Limberlost, the adventure tour company on a mission to share a richness of life.