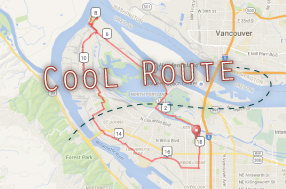 Cool Route: Nature in the City
This is one of our favorite routes in Portland! There is so much to see and do along the way with this ride. If the weather is good, plan to spend some time hanging out on the beach at Kelley Point Park. Bring a book – maybe even your suit! Kelley Point Park is a fantastic swimming spot in the summertime.
This route comes from the Best Bike Rides in Portland book by ORbike editor Ayleen Crotty and published by Falcon Guides.