So… you've heard about this fat bike craze?
What are they and how did they get here??
Read on to find out what it's all about and how to jump on board…
The Early Years
Flash back to the late 1980's and early '90's when the IditaSport and IditaBike races were getting underway. Imagine attempting to ride a rigid 18-21 speed mtn bike through the frozen wilderness of Alaska on 2.1" mtn bike tires over 250 miles… not very easy.
A wide tired bicycle would do the trick. Texan Ray "El Remolino" Molino had made some fat-tired sand bikes in the '80s which worked quite well to float on the sandy terrain in Texas. Ray modified frames to accept wide rims, up to three times as wide as regular rims – and the fat bike was born.
Mark Gronewald (Palmer, Alaska) took Ray's sand bikes and applied them to the snowy, frozen trails of the 350 mile and 1,000 mile courses of the Alaska Ultrasport races along the Iditarod Trail, where they took many wins over the next few years.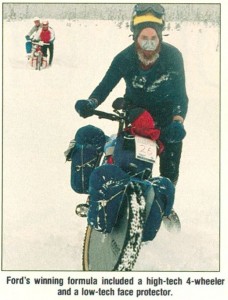 A competitor by the name of Dave Ford (Icycle Bicycle, Anchorage, AK) rode a double tired beast
(Photo courtesy of Charles Kelly / Mountain Bike for the Adventure, 1990)
Fat Adolescence
In the early 1990's, NASA engineer, Dan Hannebrink developed his "Burro Bike". This bicycle utilized a set of ATV sized wheels with mechanical drum brakes, a modified drivetrain (offset above the rear wheel to allow for chain clearance), and an early "head shock" style suspension design. These bikes were available for sale out of Big Bear Lake, California. They were also able to be rented for riding around the sandy shores of Big Bear Lake and could be ridden along the XC ski trails around the Snow Summit & Bear Mountain ski areas nearby.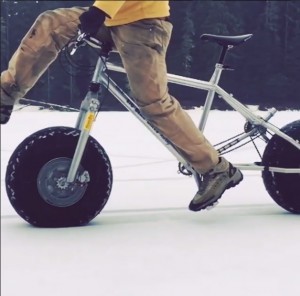 Sky Boyer of VeloCult Bike Shop, here in Portland, riding his Burro Bike near Mt Hood – click to watch the video.
In the mid 2000's Surly Bikes introduced the Pugsley to the market. 4130 Chromoly tubing, 135mm spaced frame and fork (think interchangeable front and rear wheels). With Surly's utilitarian style, the Pugsley became the standard for winter bike riders in the upper Midwest. Snow on the roads and trails? Not a problem for the 3" wide tires.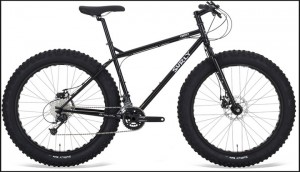 They're EVERYWHERE!
With fat bikes now available at your local bike shop, these behemoths weren't only for the ultra distance snow bike racer. You can buy one for your local sandy beach trail or to keep on hand for the Winter time snowy trail adventures. These big tired steeds are even replacing the everyday rides of some dedicated mtn bike riders. They have never-ending traction and make simple dirt trails into a different riding experience all together!
The past 3 years saw an explosion in the fat bike category. Aluminum framed fat bikes, carbon fiber forks for fat bikes, full carbon framed fat bikes, full suspension fat bikes, fat bike suspension forks, 3" wide tires, 3.8" wide tires, 4" wide tires, 5" wide tires, carbon fat bike rims. You name it, it's available. There are fat bikes available from your local department store, there are fat bikes available from most major bicycle manufacturers.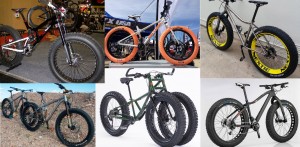 There are even some direct-to-consumer brands that offer such low entry prices, it isn't such a pricey investment to see what the buzz is all about, some starting as low as $750.
Find a Fat Bike
If you are near the Portland metro area and would like to try out the Fat Bike thing to see if it's for you, you can contact the following companies:
Further Reading
For some interesting reading on this subject, here a couple of articles I used for some fact finding:
---
Vince Rodarte is a bicycle industry expert with experience in retail sales and technical service. When not busy working for Titus / On-One / Planet X, you can find Vince grinning from ear to ear on his mt. bike.