Every years, the Oregon cycling calendar is studded with inspirational, scenic century rides. In just about any part of the state a 100-mile ride is going to take you to some interesting places—both geographically and within your inner "landscape".
With over 8,000 feet of climbing on tap, this year's Portland Century has no shortage of scenery or physical and mental challenges. For seasoned riders who enjoy lots of climbing, the 100-mile route will scratch that itch. But for riders who are newer to the sport or feel discouraged by climbing, it's never too late to get prepare for and have a fantastic ride through some of Portland's best local riding.
Training for a century makes all the difference between cycling success and a ride home in the support vehicle. Here are a few tips to help put the Portland Century within reach.
Take Your Time
First-time century riders often don't begin training early enough. If you've got a good base of fitness and have been logging miles consistently, you may be able to prepare in as little as six weeks. If not, you'll need to work up to the century more slowly.
Once you've logged some miles to establish your base fitness, start to extend weekly rides gradually, adding 5 to 10 miles per ride.
Old-time trainers used to advise that you can ride in a day what you ride in a week. That's not a bad formula to use to work up to a century distance but make sure you start adding the miles gradually in order to avoid overuse injury. The goal is not merely to finish the century ride, but to do so with confidence and comfort.
More: Petal Pedal: The Perfect Introductory Century for Oregon Cyclists
Mix It Up
Start to plan one or two long rides each week. In between the longer rides, do some shorter rides to improve aerobic fitness (did someone say Intervals?) During all your rides, work on your pedaling mechanics, which can make a huge impact on event day.
More: Training and stretching for a distance ride.
Incorporate High-Intensity Training
Interval training will improve your VO2 max which essentially means you'll use oxygen more efficiently. When you are able to maximize your use of oxygen your efforts will feel easier, your muscles will be stronger, and your endurance will improve.
Of course, you need to monitor your performance if you want your training to be effective and efficient. Invest in
tools like power meters
to know how to pace yourself, especially when you're riding long distances.
MORE: Turn Your Bike Commute Into a Training Ride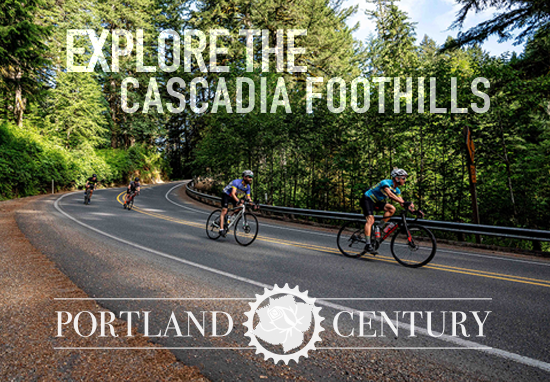 Get Out of Your Saddle
Hills have a way of demoralizing even the best climbers, so if you're not one of the 217 people in Oregon who LOVE climbing hills, start making a point of seeking out the hills when you train. Even if the route you'll be riding on event day is pancake-flat, regularly riding hills will make you stronger. It will also help you ride in windy conditions, sometimes referred to as the "invisible hill."
Hill repeats are an effective—if sometimes monotonous—way to improve climbing skill. Hill repeats are exactly what they sound like; you ride up a hill to the top, descend, then immediately start climbing again.
Rocky Butte and Mount Tabor are two popular Portland spots for doing hill repeats; on any given day you're likely to see cyclists going up and down, working on their climbing strength and skill. For a more scenic, longer option, there are numerous training routes in the West Hills to help prepare your body—and your mind—for climbing.
More: Ride the Portland Century and Explore the Cascadia Foothills
Mind Over Mountain
Training for a challenging ride isn't just physical. A good deal of it is psychological, or what we like to say, "cyclelogical". Challenge yourself with small-but-tough rides where your focus is more on what's happening in your mind when faced with a rough patch. Courage alone isn't going to get you through the event, but having a realistic—and optimistic—outlook is key.
If you're still not convinced that 8,000 feet of climbing over 100-miles is doable, the Portland Century offers 50 and 75-mile routes that may be more approachable. The event is well-marked and fully supported with rest stops, food, snacks, hydration, moral support, and support vehicles if you decide that a day in the hammock is really where you need to be.