What biking in Portland can teach you about pedaling through life
This summer, we left the steambath of Florida in search of cooler temps, rolling terrain, glorious coffee and beer and, of course, the bike-friendliness of Stumptown. Unlike other trips to Portland, this time we brought along our old but functional around-town bikes so we could do most of our urban exploring on two wheels. What we gleaned from our exploits around PDX by bike were valuable lessons we can all take to heart – both on and off the road.
1. Appreciate the Golden Rule
Yes, it really is possible for us to all to get along on the road. We've pedaled in a lot of cities and we just couldn't believe how much it seemed like the Golden Rule was all around us in Portland. The Kharma Fairy made sure that our days were full of pleasant road interactions and many people waved us through stop signs. Drivers seemed to go out of their way to honor the bicyclist. They gave us room, let us go at stop signs, and didn't get angry that we were sharing the road. Now, we're sure this doesn't happen 100% of the time, but Portland has a much higher-than-average respect for treating bicyclists the way they'd like to be treated, and for that we thank you.
2. Be present
Tune in and enjoy the ride. Feel grateful when you melt into your surroundings, appreciate the noises, the beauty (natural or structural), the weather (whatever it's doing) and the breeze. If you're not tuned in to the moment, you miss all sorts of amazing perspectives around you. Staying present on a bike is critical to your safety and keeps a healthy dose of alertness in check so you aren't blindsided by an unexpected car or pedestrian. By staying present, we were able to capture the smaller moments while exploring the city, such as tender interactions between people, or the way the sunlight cast a shadow on the bridges.
3. Ride by the seat of your pants
There were so many places we wanted to explore around Portland, we found it easiest to just get on our bikes and ride! We explored without boundaries, picking destinations and simply heading out the door. We toured neighborhoods, ate at a few amazing food trucks, checked the obligatory touristy stuff off of our lists and of course found favorite watering holes. The lack of strict structure kept our explorations interesting, and we perpetually found unique surprises where we were least expecting them. Fortunately, the bike infrastructure in Portland made it safe and easy for us to explore without extensive planning. Using the Google Maps bike navigation feature we could easily work our way through the city along the safest routes. Whether our adventure took us to a unique vintage shop or to some mighty fine ice cream, we had the best time when threw our plans out the window and rode by the seats of our pants.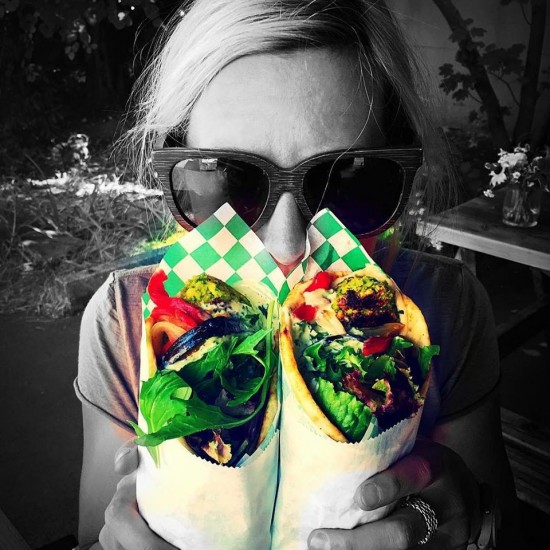 4. A little bit of maintenance and preparedness goes a LONG way
In cycling, as in life, proper planning prevents poor results. Every day we hit the streets, we made sure our tires were properly inflated, our emergency kits were accessible and that we'd taken a once-over of our bikes before hopping on. As we were exploring anywhere from 20-40 miles a day, it was important that we didn't find ourselves in a preventable bind (and fortunately, as a result, we never did). That said, Portland is the perfect place to have a bike-related mishap. We were pleasantly surprised at the sheer volume of bike shops, bike repair stations and friendly people who seemed eager to lend a hand.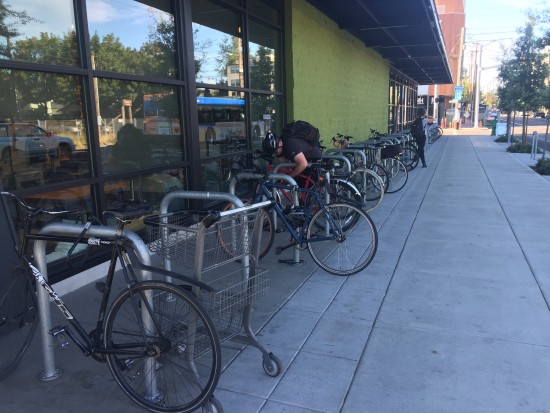 5. "Embrace The Suck"
Portlanders are inspiringly good at making lemonade out of the proverbial foul-weather lemon. The vast majority of people we ran into told us they endure the weather year-round in Portland; they continue their bike commutes or outdoor adventures through rain or shine, hot or cold. As our good friend and Navy SEAL,
Ed Naggiar
, always says, "Choose to embrace the suck." And when you do, that simple change in perspective is often enough to change your entire experience. Perception is reality, after all.
6. Tap Into Your Inner Stuart Smalley: "I'm Good Enough, I'm Smart Enough and Doggone It People Like Me."
Ride confidently: Nervousness and uncertainty can cause problems. Our experience taught us that hesitation and doubt can easily lead to an accident. Luckily, in Portland, where drivers and cyclists are pretty good about paying attention to what's happening around them on the road, this wasn't as big of an issue as in other parts of the country where cultural norms makes cyclists feel undeserving of the right to share the road. But, nevertheless, it was only when we were checking our phones for directions, or unsure of a turn to make that we ran into any potential snags on the road. Luckily for us, we were quick studies. Lessons learned: Ride tall, ride confidently, be proactive, take the lane when relevant and ride predictably. If you make your intentions clear and affirmative, other road users will understand your maneuvers and know how to respond.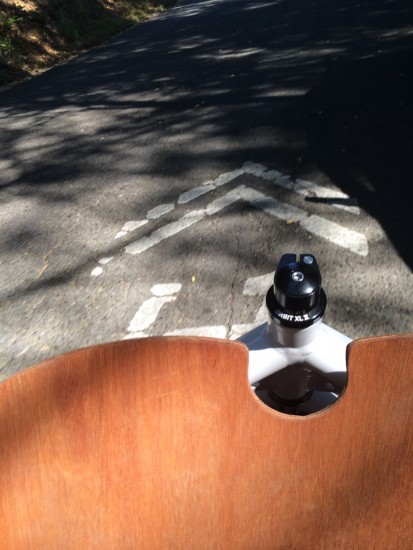 7. Progress is happening
While riding in Portland was unlike any place we'd ever experienced, we like the progress we're seeing as other cities try to duplicate the Portland urban bicycle transportation culture. We learned a lot in our several weeks riding the bike lanes of Portland – not the least of which is that if we are going to be riding like that regularly, we definitely need better bikes! After a few weeks on bikes that weren't exactly designed for the rigors of commuting, our seats are very much looking forward to a smoother and more efficient ride. We look forward to making those changes in our bikes, and seeing positive changes happen in other cities.
What lessons have you learned from the sharrow lane? Leave us your suggestions in the comments below!
---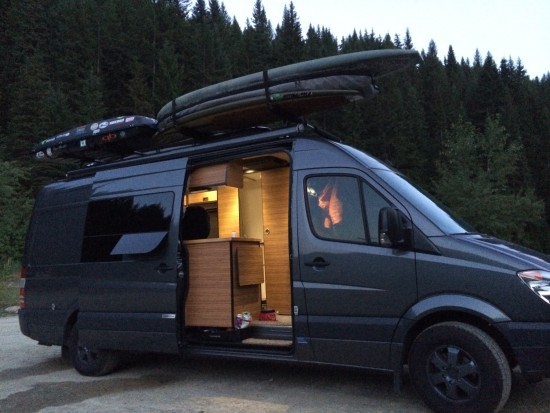 Bethany Smithers and Martin Burzynski are outdoor enthusiasts living and riding their Metrofiets around sunny Sarasota, Florida as they prepare to move to Portland. When they're not in Sarasota, they can be found in their Mercedes Sprinter conversion van, affectionately known as "VANdal." Follow along with their adventures on their blog.