This month's race article is by Guest Contributor Jim Anderson
You want to learn what?! Bicycle racing? Well then, the Monday Night Bicycle Race Series at Portland International Raceway is a great place to start.
So you've ridden some group rides, club rides and perhaps supported events, but what if you're left with a need for speed? Are you curious about what it takes to jump into the race? The races on Monday Night at PIR are a perfect opportunity to gain experience and confidence, satisfy a hunger for competition and springboard into the larger, well organized community of Oregon bicycle racing.
First Steps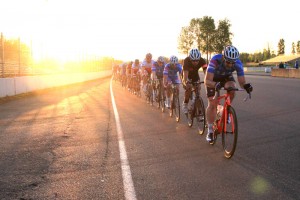 New riders are encouraged to stop by any of the weekly races from April to August on Monday nights to see what it's all about. Seasoned racers will be on hand to answer questions, you can watch all the fast and fun action up close and you'll get a sense of how the races go down.
This is also a great opportunity to see which cycling teams are present, meet the members and possibly find a team to join. Joining a cycling team makes it easier to learn new skills as you practice riding with a group and meet new people. It also makes it easier to stay motivated to train and show up to races.
Clinics and the Start Line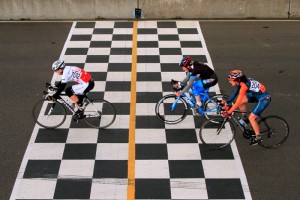 It's recommended new racers attend an Introduction to Racing Clinic to learn the race basics and more. These quick, concise free clinics are offered every Monday at 6:00pm before races start. Expert coaches and instructors from Upper Echelon Fitness and Rehabilitation lead the clinics, which cover group riding skills and etiquette, number pinning and the progression of a typical race. If time permits, instructors will teach well-honed tricks for saving energy, riding smoothly and safely maneuvering in the group. Coaches will be available after the novice race to answer questions.
After the clinic, line up for your first race. Get to the start line and pay attention to the official's instructions. When the whistle blows, the group is off! The course is a 1.9 mile loop and the novice group usually completes six or seven laps.
After the Race
Tired? Good! After the race, celebrate and chat with the clinic coaches and fellow racers. If you place consistently well, OBRA officials might upgrade you to the Category 4 & 5 race. An OBRA license is required to race. Annual or day memberships are available. You can join online through the OBRA website or at the race.
Learn More
Learn more about Monday Nights at PIR on the RaceMondayNight.com website.
About the Author
Jim Anderson is President of the Team Oregon cycling team and Camp Manager for the NW USA Cycling Talent ID Camp. This is Jim's 15th season organizing and promoting the Monday Night Race Series at PIR. When not cycling or encouraging others to cycle, Jim enjoys tricking his Pembroke Welsh Corgi Winnie into chasing non-existent squirrels.
Photos Credit
Leonard Johnson, Hot Foot Photo